Celebrating Momentum's 1,000th post!
Since 2013, the team here at Momentum has strived to bring you the latest in health care, research, education and community service from Baylor College of Medicine. Time has flown by since our very first blog post and we hope you've enjoyed the journey with us so far. To celebrate this milestone, we are highlighting some of our posts that you may have missed.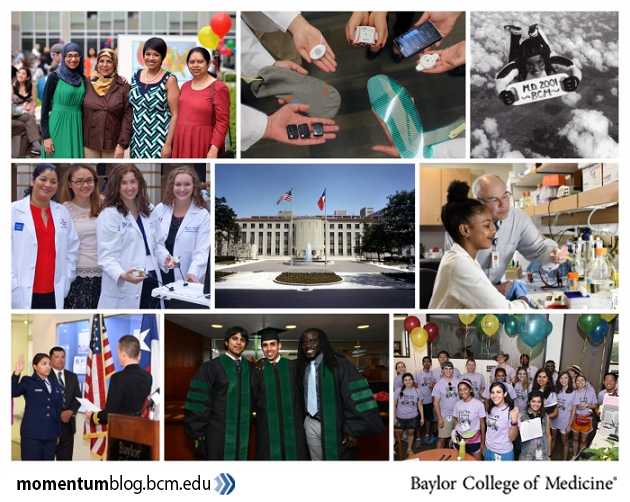 Healthcare
From skin care to heart health, fitness and nutrition tips to head and neck cancer awareness, Momentum has featured a wide variety of health information and suggestions to help you lead a healthier, more sustainable life. We've also featured information on living with disabilities, medical ethics and mental health awareness.
Throughout Baylor's history, we have been on the forefront of global health care issues and concerns. Our physicians have shared valuable medical insights on topics such as Zika virus, the Ebola epidemic and autism from both scientific and personal perspectives.
Student life and education
Baylor's diverse and talented student body is key to keeping our school evolving and thriving. Here's a sampling of Baylor student life.
History and community service
We've enjoyed sharing Throwback Thursday photos with you, thanks to the Baylor College of Medicine Archives. From the story of college lovebirds to the impact of Tropical Storm Allison, we are honored to bring you Baylor's history in the form of photos.
Serving the community requires collaboration from those within the medical field and outside of it. Whether it's student service through the Charity Bowling Ball or St. Baldrick's Day, or global health initiatives such as the Baylor International Pediatrics Aids Initiative at Texas Children's Hospital and the Emergency Smart Pod, Momentum has featured the many ways that Baylor's service programs go beyond hospital doors. Read more about Baylor's community service initiatives.
Thank You!
We are proud of the progress we've made on Momentum and are excited about what's to come in the future. To all of our writers and contributors, Baylor departments and affiliates, and Momentum readers –  thank you for helping us reach 1,000 posts. Here's to the next thousand!
-By Nicole Blanton