Healthy Habits: Dr. Nancy Eriksen enjoys CrossFit, limits processed food intake
It can sometimes be difficult to find ways to stay healthy, so we've asked members of our Baylor College of Medicine community to share what they do in their daily lives to maintain a healthy lifestyle.
Dr. Nancy Eriksen, associate professor of obstetrics and gynecology at Baylor, shares some of her healthy habits with us.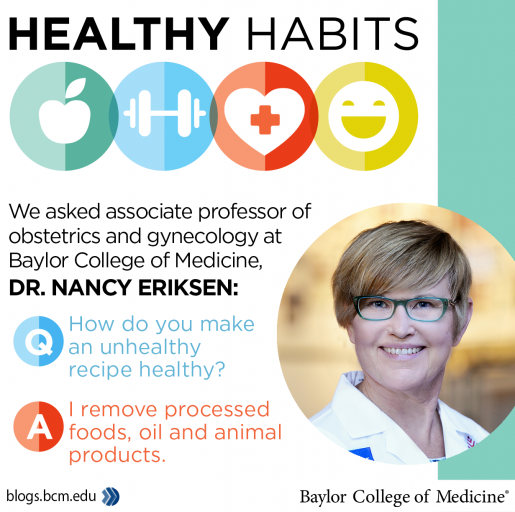 Q: What health decisions start your day?
A: Having quiet time in the morning.
Q: What is your go-to healthy breakfast?
A:  A green smoothie.
Q: What is your favorite type of exercise?
A: CrossFit.
Q: What activities do you do when you can't fit in a full workout?
A: Air squats.
Q: What is your favorite healthful snack?
A: Fruit.
Q: Do you take vitamins and if so, which ones?
A:  Yes, I take Vitamin D.
Q: How do you make an unhealthy recipe healthy?
A: I remove processed foods, oil and animal products.
Q: What is your go-to Houston restaurant for a healthy meal?
A: Verdine.
Q: What is your favorite health tip that you live by?
A: I follow a whole food, plant-based diet, which I believe can help prevent and even reverse many of our most chronic diseases.
Additional Resources
Core exercises, whole grain substitutions help Dr. Kanta Velamuri stay on track
Dr. Krishna Shah enjoys weightlifting, basketball to stay active
Read more healthy habits from members of our community.
Learn how Baylor promotes a culture of healthy living and wellness.