Healthy Habits: Dietitian Kristi King reads, hikes to stay fit
Taking care of your health is a priority and nobody knows that more than physicians and healthcare providers.
It can sometimes be difficult to find ways to stay healthy, so we've asked members of our Baylor College of Medicine community to share what they do in their daily lives to maintain a healthy lifestyle.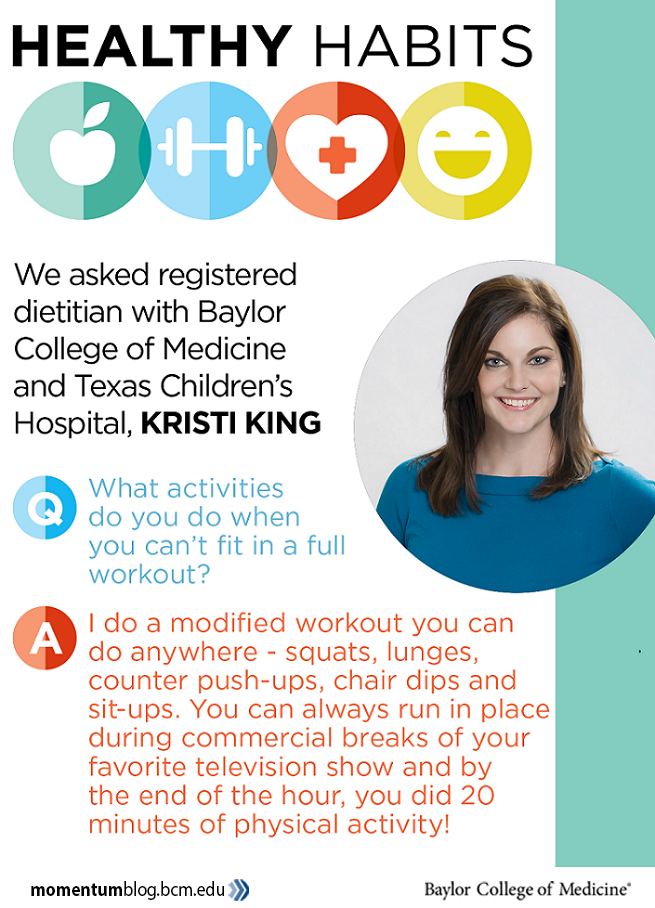 Kristi King, a registered dietitian with Baylor and Texas Children's Hospital, shares some of her healthy habits with us.
Q: What health decisions start your day?                                               
A: 5 a.m. workout four days a week and breakfast.
Q: What is your go-to healthy breakfast?
A: I love Greek yogurt with nuts and fresh or frozen fruit added. Or I'll do oatmeal made with skim milk and peanut butter added. Add some fruit on the side and you have a happy tummy!
Q: What is your favorite type of exercise?
A: I'm not a fan of treadmills but love walking or hiking trails outside. I also recently started Orange Theory and am loving it.
Q: What keeps you motivated during your workout?
A: The fact that I'm making a healthy choice! Good music is also a must for me!
Q: What activities do you do when you can't fit in a full workout?
A: I do a modified workout you can do anywhere – squats, lunges, counter push-ups, chair dips and sit-ups. You can always run in place during commercial breaks of your favorite television show and by the end of the hour, you did 20 minutes of physical activity!
Q: What is your favorite healthful snack?
A: String cheese and an apple or carrots. Cheese gives me protein and fruit/veggies give me fiber to help me stay full.
Q: Do you take vitamins and if so, which ones?
A: I take a general multivitamin and on days I don't meet my calcium need, I take calcium before bed.
Q: How do you make an unhealthy recipe healthy?
A: Use olive oil or canola oil instead of vegetable oil and use skim milk versus whole.
Q: What hobbies do you have to help you relax?
A: I am an avid reader and starting to become a huge movie buff – anything that helps my mind escape. My mom has me now turned on to coloring to help me relax when I am feeling stressed – it works wonders!
Q: What is your go-to Houston restaurant for a healthy meal?
A: Zoe's Kitchen is a great pick if in a hurry. I also love Mezza Grill on Westheimer.
Q: Do you use a pedometer or Fitbit and what is your daily step goal?
A: I have a Fitbit and 10,000 steps is my goal – some days are easier than others.
Q: What is your favorite health tip that you live by?
A: Enjoy life. Try not to stress about the little things – for me, that is a work in progress!
Additional Resources
How Dr. Philip Alapat keeps fitness fun
Dr. Thomas Hunt mixes family time with fitness
See how Baylor stays fit with more healthy habits from members of our community
See how Baylor promotes a culture of healthy living and wellness