Healthy Habits: How Dr. Philip Alapat keeps fitness fun
Taking care of your health is a priority and nobody knows that more than physicians and healthcare providers.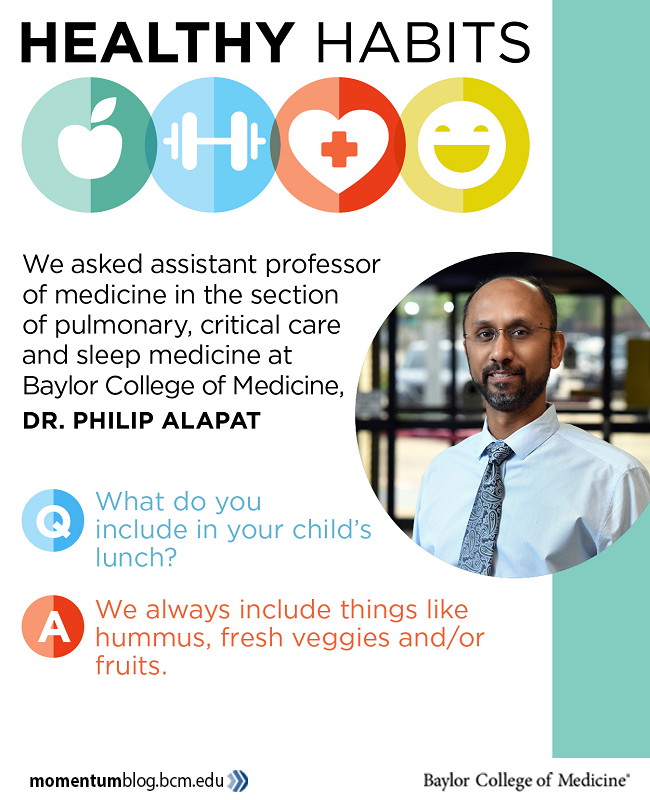 It can sometimes be difficult to find ways to stay healthy, so we've asked members of our Baylor College of Medicine community to share what they do in their daily lives to maintain a healthy lifestyle.
Dr. Philip Alapat, assistant professor of medicine in the section of pulmonary, critical care and sleep medicine, shares some of his healthy habits with us.
Q: What is your go-to healthy breakfast?
A: Oatmeal is my go-to. On weekends, I am able to prepare oatmeal by cooking oats and including ingredients like plumped raisins (slightly moisten raisins and cook them on a saucer in the microwave for 20-30 seconds) and sliced bananas or apples. On weekdays when time is a concern, the low-sugar version of many different brands of instant oatmeal is quite good. If I have absolutely no time and there is a McDonald's around, I order their breakfast burritos WITHOUT cheese. Yes, they are from McDonald's, but they are surprisingly good. I do not have a calorie and cholesterol count for the no-cheese version but I cannot imagine them to be too bad for you.
Q: What is your favorite type of exercise?
A: Getting outside and playing with my kids. We often play basketball in the front yard. We also ride RipStiks, skateboard, roller blade, and bike around neighborhood together. The fact that I want to do the same things with them makes them more interested in getting outside.
Q: What keeps you motivated during your workout?
A: When I am able to go to the gym, I try to perform a variety of exercises for brief periods because I get bored easily. Listening to podcasts of interesting NPR broadcasts like TED talks also helps keep me going.
Q: What activities do you do when you can't fit in a full workout?
A: When I am able to get to the gym, I only get about 30-45 minutes to work out, so I often spend just a few minutes outside shooting baskets on a basketball goal.
Q: What is your favorite healthful snack?
A: I am a frequent homemade smoothie imbiber. I blend frozen berries (get the big Costco bag), a banana, low-fat yogurt and low-fat milk to make a delicious and nutritious snack. My kids love it, too.
Q: Do you take vitamins and if so, which ones?
A: No vitamins – a reasonably balanced diet should give you everything you need.
Q: What do you include in your child's lunch?
A: We always include things like hummus, fresh veggies and/or fruits.
Q: How do you make an unhealthy recipe healthy (healthy substitutions)?
A: I almost always half the sugar and oil without any unfavorable consequences.
Q: What hobbies do you have to help you relax?
A: I enjoy maintaining a saltwater aquarium. My children also enjoy looking at the aquarium, and they help me feed the fish and maintain the aquarium.
Q: What is your go-to Houston restaurant for a healthy meal?
A: I think that a healthy meal is possible at most non-fast food restaurants. You just have to be careful about what you order. I have even taken to asking food to be cooked with less oil at Chinese restaurants, and the food has turned out quite well. I particularly enjoy eating at Mediterranean restaurants like Fadi's.
Q: What is your favorite health tip that you live by?
A: Appropriate rest of the body, mind and soul is essential for good overall health. No one else will ensure that you take care of your needs other than yourself. So ensure adequate sleep amounts and reasonable time away from work, doing whatever it is you need to do to allow optimal function of the body, mind, and soul.
Additional Resources
Dr. Thomas Hunt mixes family time with fitness
Dr. Laila Woc-Colburn shares her fitness routine
See how Baylor stays fit with more healthy habits from members of our community
See how Baylor promotes a culture of healthy living and wellness