Breaking down the COVID-19 pandemic, discussing the importance of sustainability in healthcare, and sharing vaccine facts are just a few of the highlights from the Momentum blog this year. We look forward to sharing more advice, expert perspectives and frontline stories with you in 2021.
But before the year comes to a close, let's look back at some of our most viewed posts in 2020.
Cancer and cannabis: What patients need to know
Dr. Charu Agrawal, a palliative care specialist at the Dan L Duncan Comprehensive Cancer Center at Baylor College of Medicine, shares suggestions for cancer patients who are interested in cannabis.
Social distancing: Tips to navigate the new normal
How is the coronavirus pandemic impacting psychological health? Dr. Eric Storch discusses tips to cope.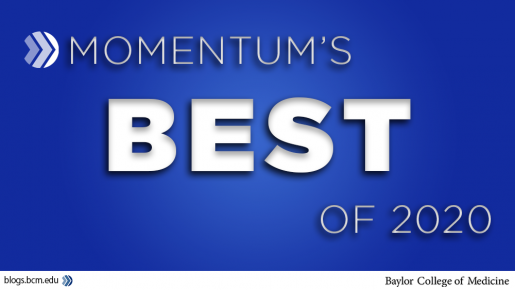 COVID-19 treatments: Fact vs. fiction
Experts at Baylor break down the facts about potential coronavirus treatments.
Waste not, want not: Environmental sustainability in healthcare
A medical student highlights the urgency of environmental sustainability in healthcare.
COVID-19 and women's health: How to get better sleep during the pandemic
How is COVID-19 impacting our sleep? Dr. Kanta Velamuri shares tips for women to manage sleep health during the pandemic.
Debating Diets: What is the low-FODMAP diet?
Ann McMeans, senior registered dietitian with Baylor, discusses what you need to know about the low-FODMAP diet.
Why in-person education is crucial for kids during COVID-19
Drs. Amira Said and Lindy McGee talk about mitigating health risks in schools during COVID-19.
The mind-heart connection: Maintain psychological wellbeing and heart health
Is there a connection between mental health and cardiovascular health? Dr. Glenn Levine, a cardiologist at Baylor, shares the facts.
The COVID-19 vaccine: What you need to know
Dr. Maria Elena Bottazzi answers some of the frequently asked questions about COVID-19 vaccines.
Growing Up Baylor: Kris Marsack
Kris Marsack, physician assistant at Baylor, tells us how training and working at Baylor has impacted her life and career.
Interested in more from the Baylor Blog Network?
Get an inside look at the latest research in From the Labs.
Check out Policywise for insights on medical ethics and policy.
Learn about student experiences in Progress Notes.
Read the The Stitch for perspectives from the Michael E. DeBakey Department of Surgery.
See Match Day and Graduation 2020 highlights.
-By Nicole Blanton