Social distancing: Tips to navigate the new normal
The novel coronavirus pandemic has created unique clinical and scientific questions. Now that we are changing our social behavior to 'flatten the curve,' there is another question to consider – what is the impact of social distancing on psychological health?
"Social distancing is stressful for anyone – humans are designed for personal contact, touch, and interaction. For those who suffer from anxiety, depression, or other mental health problems, social distancing can be particularly stressful," said Dr. Eric Storch, a psychologist at Baylor College of Medicine. "While it is necessary to do, this lack of interpersonal contact can be difficult for some and may even exacerbate preexisting problems."
But keep in mind, resources that are often offered in person – such as support groups or psychotherapy – can often be accessed online through applications and telemedicine, Storch said.
"There are excellent telehealth services available, as well as a variety of different online resources that can be very helpful."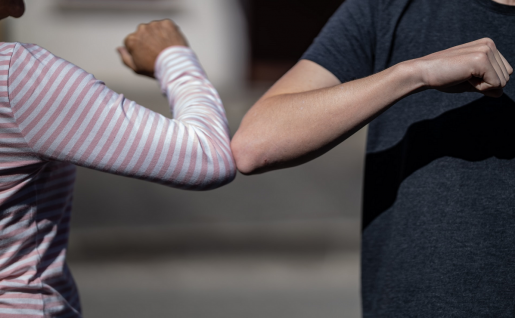 Reduce social isolation
Popular video calling services, such as Skype and FaceTime, can be effective tools for bridging the gap between you and your loved ones. Many Americans are even getting creative by scheduling Netflix watch parties and virtual happy hours. However, Storch says it's important to recognize that not all methods of staying in touch will work for everyone.
"The way that we connect with other people is by seeing them, ideally in person but if not, via video. For some, negotiating technology can be difficult. Those who are more tech-savvy may be able to help others adapt to using these technologies. It's also crucial to reach out – not only to your elderly loved ones, but to those who have mobility limitations."
Consider different ways to help others, such as donating to food banks or having children make art to be delivered to those who cannot leave their homes. These activities can also help reduce social isolation.
"It helps to do our part to make the world a better place and help those who are less fortunate."
Storch says the extra time indoors is also an opportunity to try out new activities, such as:
Borrowing e-books or audiobooks online
Gardening
Starting a personal journal
Indoor exercise
Telecommuting
How should you go about your day if you are now working from home? Storch says it's important to make a schedule – and follow it.
"Set up the day so that you have clear parameters. For example, that might be waking up at 7:30, having breakfast at 8, going for a walk at 8:30, and beginning your work day at 9."
For those who are homeschooling children, Storch says the scheduling principle still applies – and young children should have limited exposure to news.
"News can become overwhelming for both children and adults, so it's important to limit information intake. A good way to do this is by watching the news once in the morning and once in the evening."
To those who are juggling multiple priorities while also trying to maintain a sense of calm, Storch offers this advice: "Give yourself a break. For example, if you're homeschooling, chances are you won't be perfect on the first day. Be kind to yourself."
Dr. Storch is a professor and McIngvale Presidential Endowed Chair in the Menninger Department of Psychiatry and Behavioral Sciences at Baylor.
Additional Resources
See resources at the Baylor Psychiatry Clinic.
View online support groups at the Depression and Bipolar Support Alliance and the Anxiety and Depression Association of America.
Practicing mindfulness anytime, anywhere
-By Nicole Blanton