Growing Up Baylor: Kris Marsack
Imagine studying, training and eventually working at the same institution during the span of your career. A special group of physicians, faculty members, researchers and staff at Baylor College of Medicine have had this unique experience.
Kris Marsack, physician assistant and assistant professor of surgery in the Division of Plastic Surgery at Baylor College of Medicine, tells us how training and working at Baylor has impacted her life and career.
Q: Did you always know you wanted to work in healthcare?
A: Yes. I have known I wanted to work in healthcare since I was six years old. I was the kid who actually wanted to go to the doctor. My parents were both teachers so my pediatrician was my role model for my journey into medicine, and this is where my dream of working with children began.
During college, I was introduced to the physician assistant (PA) profession through my sister's friend and in researching it further, I realized this would be a great career fit for me.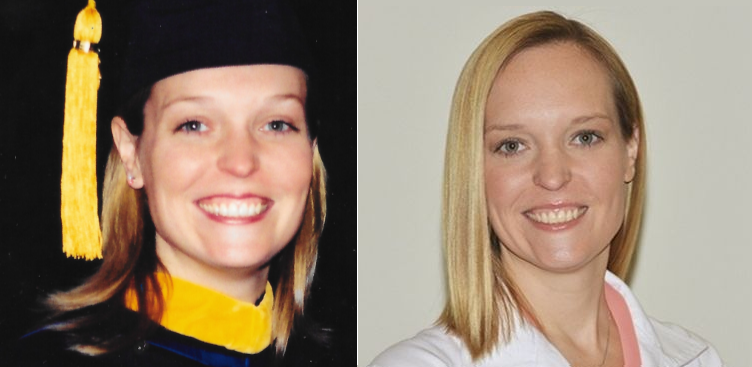 Q: Where and when did your journey with Baylor College of Medicine start?
A: I grew up in Indiana and when I graduated from college, I decided to move south to escape the winters for a warmer climate. I interviewed at several Texas PA schools. However, I was awestruck when I drove into the Texas Medical Center, with Baylor right in the middle of everything, both in terms of location and clinical activity. The interview process at Baylor confirmed what a special opportunity it would be to train here and it immediately felt like a perfect fit.
Q: How did you decide on your specialty?
A: During my PA rotations, I realized that I enjoyed participating in surgery and performing procedures. Upon graduation, I pursued surgical positions and was fortunate to be offered a position in Plastic Surgery at Ben Taub Hospital, where I was part of a team focused on reconstructive surgeries.
I didn't have much experience with plastic surgery as a new graduate, but I immediately fell in love with the field. The fact that the surgical results are visible and can make a life changing difference for patients often going through difficult times truly resonated with me. Additionally, plastics provides an opportunity to create long-term relationships with patients that require ongoing reconstructive care, which is a part of the job that I find incredibly rewarding.
Q: What inspired you to continue working at Baylor?
A: I was excited for the opportunity to take a PA position at Ben Taub. I love the patients, faculty and staff there. This position also allowed me to be a part of the Plastic and Reconstructive Surgery Division at Baylor, which sees patients throughout the Texas Medical Center.
Working at Ben Taub allowed me to focus on taking care of trauma and cancer patients, and being part of Baylor allowed me to help in other areas within the division. For many years, I was the only plastic surgery PA at Baylor, which led me to assist in surgeries at Texas Children's Hospital, St. Luke's and other local hospitals. I also helped in the aesthetic practice by assisting in clinics performing laser treatments, injectables, and nipple-areolar tattooing for breast reconstruction patients.
After 11 years in this role, I transitioned to Texas Children's, where I continue to work in plastics alongside Baylor faculty members. The transition to Texas Children's has also allowed me to assume a leadership role as the assistant director of surgical advanced practice providers.
The move to Texas Children's has brought me full circle, allowing me to realize my lifelong dream of taking care of kids.

Q: What is the most valuable lesson you've learned?
A: Always take the opportunity to learn new things. Our world and workplace is always evolving and it is important to be as prepared as possible for the future. I have really felt this over the past few months due to the rapid changes that have occurred due to COVID-19.
A project that I had been working on prior to the outbreak was implementing telemedicine within the Department of Surgery at Texas Children's. Once stay-at-home orders were implemented, telemedicine was more important than ever, and I was grateful that I had a strong understanding of the process and was able to facilitate changes to increase our ability to continue safe, high quality care for our patients.
Q: Knowing what you know now, what would you tell your younger self?
A: Embrace opportunity. I believe I did this for the most part, but it can be scary at times. However, if you are always willing to keep learning and building your skills, you will be putting yourself in a position to succeed.

Q: What do you think makes Baylor unique?
A: The people, along with the medical diversity and patient volume. Baylor has strong providers who really know the bread and butter of their specialty, which allows them to embrace the academic challenge of educating learners and provide cutting edge care for patients with rare conditions.
Q: How has sticking with Baylor programs and ultimately becoming a faculty member impacted your life and career?
A: Immensely. I never intended to stay in Houston after school, but the opportunities that Baylor has provided me with have been incredible. Working at Ben Taub allowed me to develop my clinical skills while forming great relationships with my colleagues. Texas Children's has enabled me to learn the administrative aspects of medicine and evolve my leadership skills. And throughout, I've had absolutely wonderful colleagues and mentors that have given their time to guide me on the important characteristics of being an effective provider, leader and teammate.
Q: Do you have a mantra? If so, what is it?
A: You don't know what you don't know. It's important to always keep communication open, request feedback and strive to help others succeed.
Additional Resources
Learn more about the Division of Plastic Surgery at Baylor.
See resources at the Center for Educational Outreach at Baylor.
Read more from the Growing Up Baylor series.