A look back at 2015 at Baylor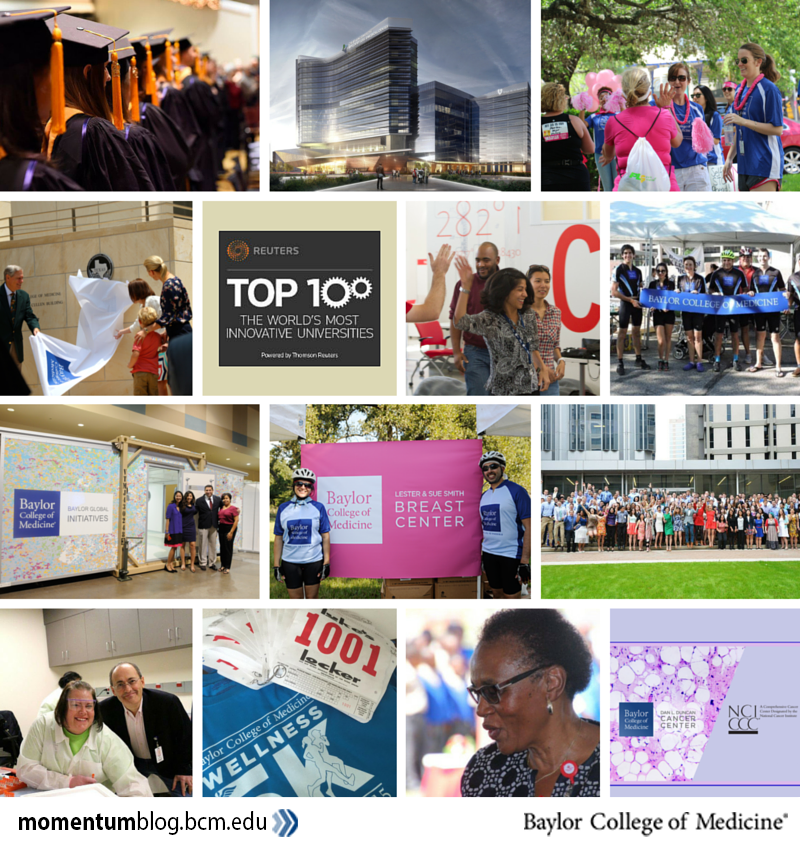 Before we close the books on 2015 and start a new year, we invite you to take a look back at a year packed with achievements and celebrations.
Join us as we relive the highlights in education, research, healthcare and more at Baylor College of Medicine.
Comprehensive Designation
Baylor's Dan L Duncan Comprehensive Cancer Center was ushered into an elite class of cancer centers this summer. In July, the National Cancer Institute awarded the Duncan Cancer Center the prestigious designation of a Comprehensive Cancer Center.
Dr. Kent Osborne writes in the Houston Chronicle that comprehensive status for Duncan Cancer Center helps put best treatment in reach of Texans.
Leading innovation
Adding to our accolades this year, Reuters named Baylor as one of the most innovative universities in the world. 
But innovation and research weren't the only areas that garnered attention. Baylor was also named:
See more awards and honors the College has received.
Inaugural O&P class graduation
In 2013, Baylor launched a new Orthotics and Prosthetics Program. On Saturday, Dec. 5 commencement was held in the Grand Hall at the Lancaster Center. The class of 2015 included 18 students who received their Master's of Science degrees.
Allied Health graduation 2015: By the numbers.
See photos from graduation on Facebook.
Expansion in the Texas Medical Center
CHI St. Luke's Health–Baylor St. Luke's Medical Center unveiled the design for the $1.1 billion medical campus that will house the College, a world-renowned cardiovascular research institute, and a nationally recognized hospital.
At 27.5 acres, the McNair Campus is the future home of the collaboration between Baylor and Catholic Health Initiatives, as well as the future site of the Texas Heart® Institute.
Historic Recognition
From a virtual wilderness to the heart of the Texas Medical Center, the College has played an important role in Houston's medical and education history.
On May 1, the Texas Historical Commission recognized Baylor's place in Texas history through a dedication and unveiling of the Roy and Lillie Cullen Building as a Recorded Texas Historic Landmark. The Cullen building is the first Recorded Texas Historic Landmark in the Texas Medical Center.
Match Day Success
Each academic year, Match Day is greeted with surprises and fun on campus. Check out the highlights of another successful Match Day at Baylor and make sure you watch the flash mob. Our students know how to celebrate.
Check out dozens of photos from Match Day, including our "Future Doctor" photo album.
Global Outreach
Baylor College of Medicine's Baylor Global Initiatives is taking a lead in the effort to harness the power of technology to address global healthcare needs. To help address challenges in remote areas of the world with little resources available, Dr. Sharmila Anandasabapathy, director of Baylor Global Initiatives, and her colleagues developed the Emergency Smart Pod. The portable four-bed unit can be quickly built and deployed to treat patients in an emergency response situation.
In addition to finding solutions to address healthcare challenges, Baylor Global Initiatives sought to spark innovation and imagination in our Texas Medical Center colleagues by hosting the first Global Health Hackathon. Approximately 100 hackers from backgrounds that spanned healthcare, engineering, business and technology convened to find innovative solutions to clinical problems.
Watch highlights below and see photos from the event.
Spirit of Service
Outside of work and school, members of the Baylor family work to promote wellness and support research in the community. This year our teams participated in events like:
Milestone Anniversaries
During 2015, the College and our affiliated programs celebrate several milestones including:
The 20th anniversary of our student's charity ball. Once a gala, the ball has transformed over the years to an evening of fun and bowling that helps raise money to support the Houston Outreach Medicine, Education, and Social Services and Camp For All. Read more.
On World AIDS Day, Baylor College of Medicine-Texas Children's Hospital-Bristol-Myers Squibb Children's Clinical Centre of Excellence (COE) in Lesotho celebrated a decade of providing healthcare for children infected with HIV in Lesotho. Read more.
Additional Resources
Read more about research accomplishments in From the Labs.
Check out the latest news from Baylor.
Find ways to connect to the College through social media.