Is the future of cervical cancer screening an at-home HPV test?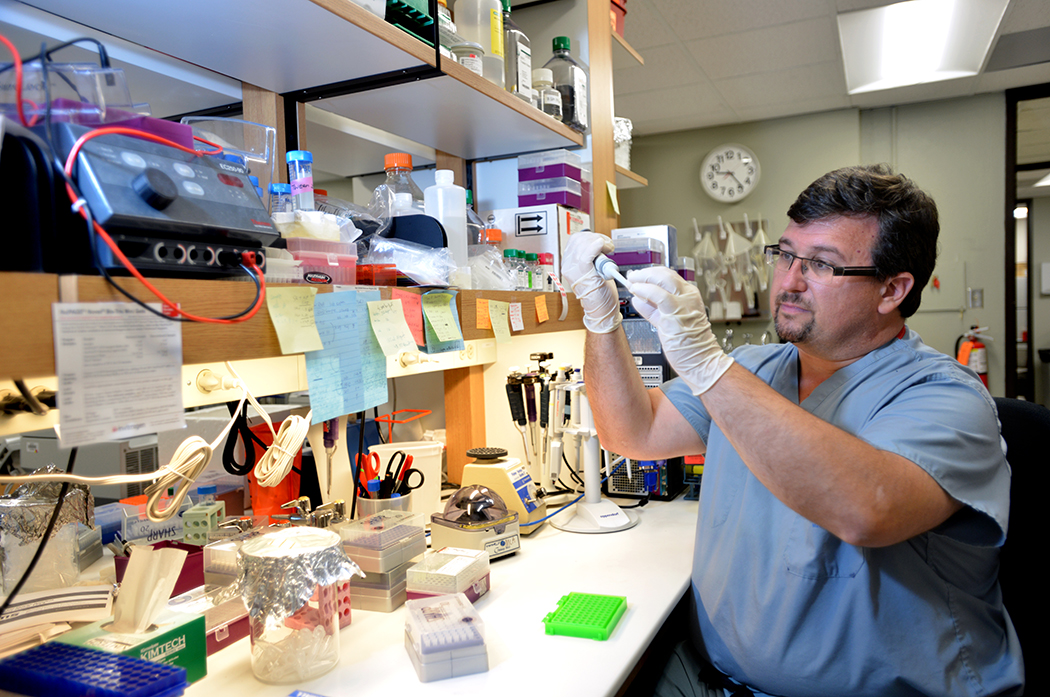 Practicality, affordability, and accessibility are the three goals Dr. Matthew Anderson, associate professor in the Department of Obstetrics and Gynecology at Baylor College of Medicine, hopes to accomplish with the implementation of an at-home Human Papilloma Virus (HPV) genotype testing kit.
Allowing women to easily screen for cervical cancer in the comfort of their own homes is a progressive step in bringing healthcare to the global community. According to Anderson, the at-home kit will eventually eliminate the need for routine pap smears, and cut the cost of screening by 99 percent.
"This is a preventable disease on multiple levels. We have vaccines, effective screening tools and the whole field is working on trying to make it more convenient and easier for people to get screened," he said.
The HPV at-home genotype test is a step toward cancer prevention—it simplifies a complex system, and grants easy access to an effective screening method. Self-administering the test is straightforward—a swab of the cervix is taken, mailed to the lab, genotyped, and comes back either positive or negative.
If negative, a patient will not need to be screened for another three years, and the likelihood of getting cervical cancer in the next ten years is less than 1 percent, thus alleviating the pressure of yearly gynecological visits.
HPV is the leading cause of cervical cancer and rates have increased due to population growth, and fewer screening options for medically underserved patients.
"We've done a lot to figure out why women aren't coming in, and how to make the screening process more amenable and practical," Anderson said.
Improving Cervical Cancer Screening
Research conducted by Baylor's Obstetrics and Gynecology and Radiation Oncology departments, have shown that lack of awareness and education on HPV, financial, socio-economic, and cultural barriers hinder women from cervical cancer screenings or follow-ups on abnormal pap smears.
To lift these barriers, Anderson along with Baylor and Texas Children's Hospital colleagues, including: Dr. Michelle Ludwig, assistant professor in the Department of Radiation Oncology, Dr. Jennifer Bump and Dr. Maame Aba Coleman, assistant professors in the Department of Obstetrics and Gynecology; Maria Jibaja-Weiss, associate professor in the Dan L Duncan Comprehensive Cancer Center, Jane Montealegre, instructor in Pediatrics Oncology, as well as senior leaders at Harris Health System, developed a dynamic "patient navigator system" integrating their research findings into a comprehensive network of coordinators, to assist women with cervical cancer screening needs.
Coordinators navigate close to 300 patients per month to ensure imperative follow-up steps are taken to abnormal pap smears, educating women on HPV and pap smears, and addressing any questions or fears.
"We've gone from having 40 percent of women lost to follow-up to about 1 percent, over a span of three years," Anderson said.
With Baylor's vast genetics and cancer research facilities, and strong ties to the Texas Medical Center and Harris Health, it is well poised to advance the at-home HPV genotype testing kit over the next couple of decades, Anderson said.
With the kit, Anderson hopes to see cervical cancer screening methods become less of a luxury and instead be an easily accessed form of preventative healthcare. He said it would also improve the quality of outcomes around cervical cancer and build more trust in the healthcare system.
For more information or to set-up an appointment, please visit Texas Children's Pavillion for Women or call 832-826-3000.
Additional Resources
Dr. Matthew Anderson receives funding to advance ovarian cancer research
Traditional pap smear soon to be history