Perseverance though great personal odds, childhood cancer research advances and medical education journeys at Baylor College of Medicine are some of the stories we shared this year on the Momentum blog. We also celebrated the five-year anniversary of Momentum's launch, and we look forward to sharing many more stories with you in 2019 and beyond.
But first, join us as we take a look back at the 10 most viewed posts of 2018!
Doctor and medical school graduate share special bond
Sonny Nguyen's mother always told him stories of the kind doctor who delivered him. Twenty-two years later, when Nguyen started medical school at Baylor, he realized the doctor's name in his baby book was a familiar one at the College. Read more.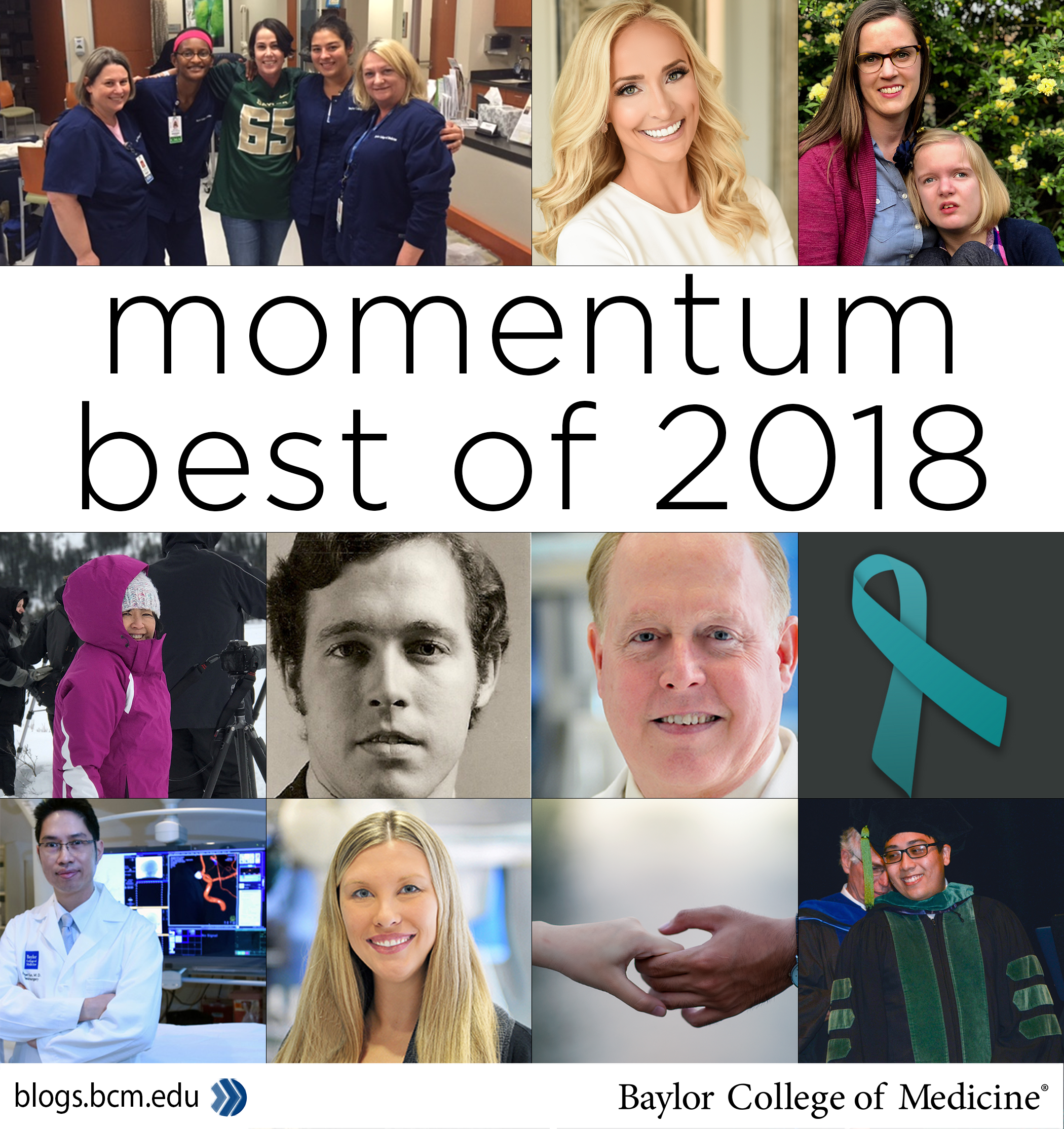 Living with OCD: Perseverance, hope and my inspiration to help others
When Elizabeth McIngvale began experiencing symptoms of obsessive-compulsive disorder at age 12, anxiety and compulsions overwhelmed her and her family. McIngvale, now a faculty member in the Menninger Department of Psychiatry and Behavioral Sciences at Baylor, reflects on why OCD no longer controls her life.
Family finds answers, hope after discovery of rare genetic disorder
At just one year old, Della Calder started showing signs of autism spectrum disorder. Learn how the discovery of a rare gene mutation led to a crucial diagnosis, participation in a clinical trial at Baylor, and a hopeful outlook for the Calder family.
Myasthenia gravis: What you should know
There's a good chance that you're aware of ALS thanks to widespread participation in the ALS Ice Bucket Challenge. But are you aware of a more common autoimmune disease in the United States – myasthenia gravis? Dr. Milvia Pleitez, a neurologist at Baylor, tells us more about the disease.
New therapy for pediatric brain tumors could reduce long-term cognitive issues
Radiation treatment for pediatric brain cancer can have long-term psychological effects. Dr. Lisa Kahalley explores a new technology.
Growing Up Baylor: Dr. Thomas Wheeler
A special group of Baylor physicians, faculty members, researchers and staff have the unique experience of studying, training and eventually working at the same institution during the span of their careers. This group includes Dr. Thomas Wheeler, who shares how working at Baylor has impacted his life and career.
Patient with genetic cholesterol disorder has new outlook after clinical trial
Terry Lim was enjoying her life, traveling and staying active. However, she was living with a silent illness that kept her future in question. Learn how she was able to finally control her familial hypercholesterolemia, a genetic disorder resulting in dangerously high cholesterol.
How to cope when your partner has ADHD
When you think about attention deficit hyperactivity disorder (ADHD), you might picture overactive children. However, ADHD symptoms can continue into adulthood and sometimes create issues in relationships. Dr. Asim Shah shares tips to help cope.
Know your risk for brain aneurysm
A ruptured brain aneurysm occurs every 18 minutes in the United States. But what exactly is a brain aneurysm? Dr. Peter Kan discusses aneurysm warning signs, risk factors and common treatment options.
Immunotherapy treatment gives lung cancer patient second chance
Faced with a lung cancer diagnosis, Katherine Dill was initially told her cancerous mass was inoperable. After several rounds of chemotherapy and radiation, Dill turned to Baylor for treatment and learned about the benefits of immunotherapy. Read more.
See more of the Baylor Blog Network
Read the latest research news in From the Labs.
Learn about medical student experiences in Progress Notes.
Check out PolicyWise for the latest news and commentary in health policy.
-By Nicole Blanton