Doctor and medical school graduate share special bond
Sonny Nguyen's mother always told him stories of the kind doctor who delivered him. She affectionately referred to him as "Dr. Michael" and would talk about how he always checked up on her during her stay in the hospital. She even had the doctor sign the baby book she made for her son.
Twenty-two years later, when Nguyen started medical school at Baylor College of Medicine, he realized the doctor's name in his baby book was a familiar one at the College. In fact, the signature was from Dr. Michael Belfort, chair of obstetrics and gynecology at Baylor and obstetrician and gynecologist-in-chief at Texas Children's Hospital.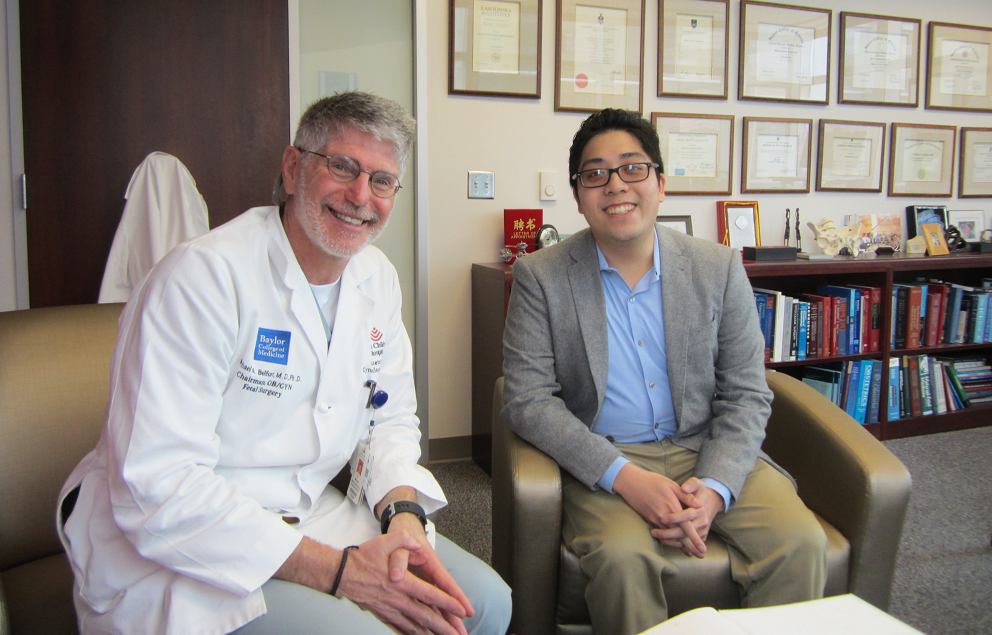 Thrilled with this coincidence, Nguyen decided to show Belfort a picture of his signature in the baby book one day after Belfort presented grand rounds at Texas Children's.
"It was a lovely surprise," Belfort said.
Since he has delivered close to 6,000 babies over the past 36 years as an obstetrician and because he also trained in South Africa and lived in Utah in addition to Houston, he rarely runs into people that he delivered who are now adults. It meant a great deal to Belfort that Sonny reached out to him.
"Sonny is an amazing young man, and he has the most wonderful parents. His story is very special to me," Belfort said.
The two shared another special moment as Nguyen graduated from Baylor in May. Belfort hooded Nguyen as he walked across the stage.
The hooding, a recognition for those graduating with doctoral degrees, is usually done by a dean during the commencement ceremony. If the student has a parent who is a physician, often they will be the ones to hood the student. For Belfort to hood Nguyen is a unique occurrence.
"It is amazing that the man who helped give me life also hooded me at graduation," Nguyen said.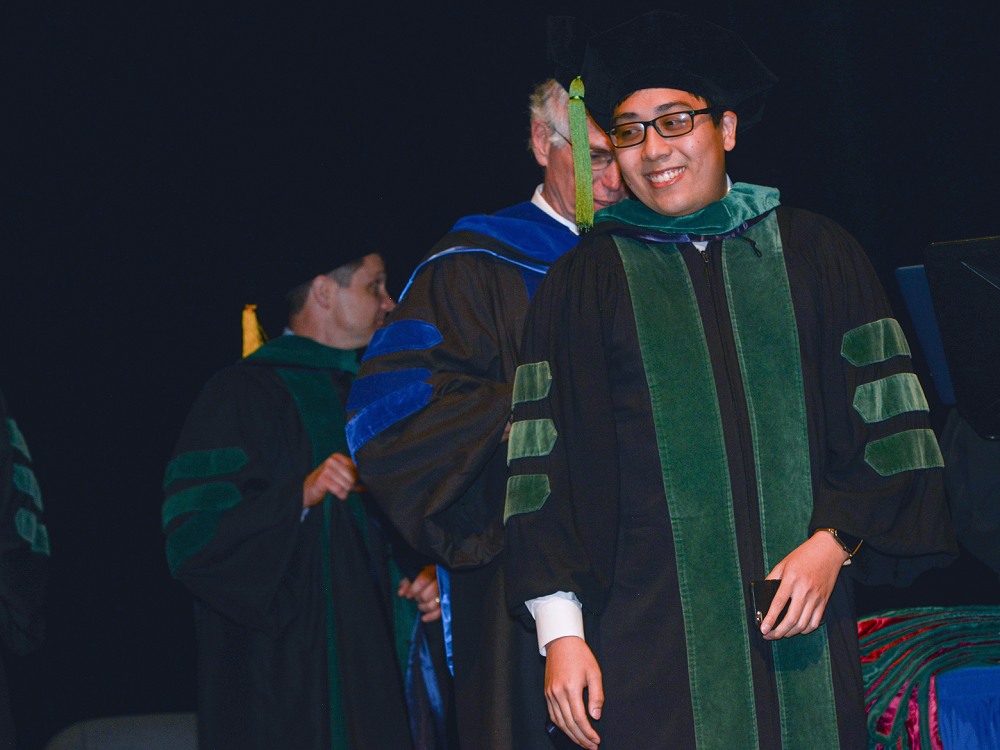 "This is an honor and a privilege and quite a unique experience," Belfort said. "As you can imagine, Baylor is special to me. I graduated here from my residency and fellowship and have now been chair of obstetrics and gynecology for eight years."
Nguyen is pursuing a residency in internal medicine at Baylor and the University of Texas MD Anderson Cancer Center after completing the combined MD/MBA program with Rice University Jones Graduate School of Business.
"My advice for him is to try to enjoy every minute of his training and career no matter how tough or trying it may seem at times. It is only after you near the end of your career as a physician, as I am now, that you realize the amazing privilege you have been afforded, which is the ability to help others and to have their trust. Baylor has given us a passion and a livelihood and we will always be grateful for that," Belfort said.
Belfort hopes that his son, Ben Belfort, who is a first-year medical student at Baylor, will be the second medical student that he delivered that he will be able to hood.
-By Dipali Pathak