Recipe: Delicious baked trout full of protein, low on fat
Looking for a healthier alternative to grilled or barbecued dishes this Memorial Day weekend? Baylor College of Medicine Sugar, Heart and Life Program's baked trout recipe should do the trick.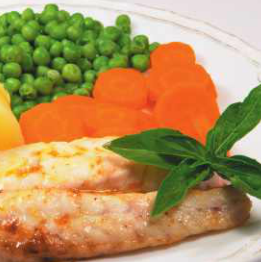 This recipe, which serves six, is simple to make and at 236 calories per serving is heart-healthy.
Sugar, Heart and Life is an interactive web experience for patients with diabetes and their families. It features a guide to   understanding diabetes, tips for eating at home and on the go, interactive games, information on how to accurately read food labels and planning for physical activity.
Baked Trout
Ingredients
2 lb. trout fillet, cut into 6 pieces (any kind of fish can be used)
3 tbsps. lime juice (about 2 limes)
1 medium tomato, chopped
½ medium onion, chopped
3 tbsps. cilantro, chopped
½ tsp. olive oil
¼ tsp. black pepper
¼ tsp. salt
¼ tsp. (optional)
Preparation
Preheat oven to 350 degrees.
Rinse fish and pat dry. Place in baking dish.
In separate dish, mix remaining ingredients together and pour over fish.
Bake for 15-20 minutes or until fork-tender.
Looking for a flavorful side to complement the trout?  Check out our other dietitian-recommended recipes.