First-year BCM medical student presents research at international conference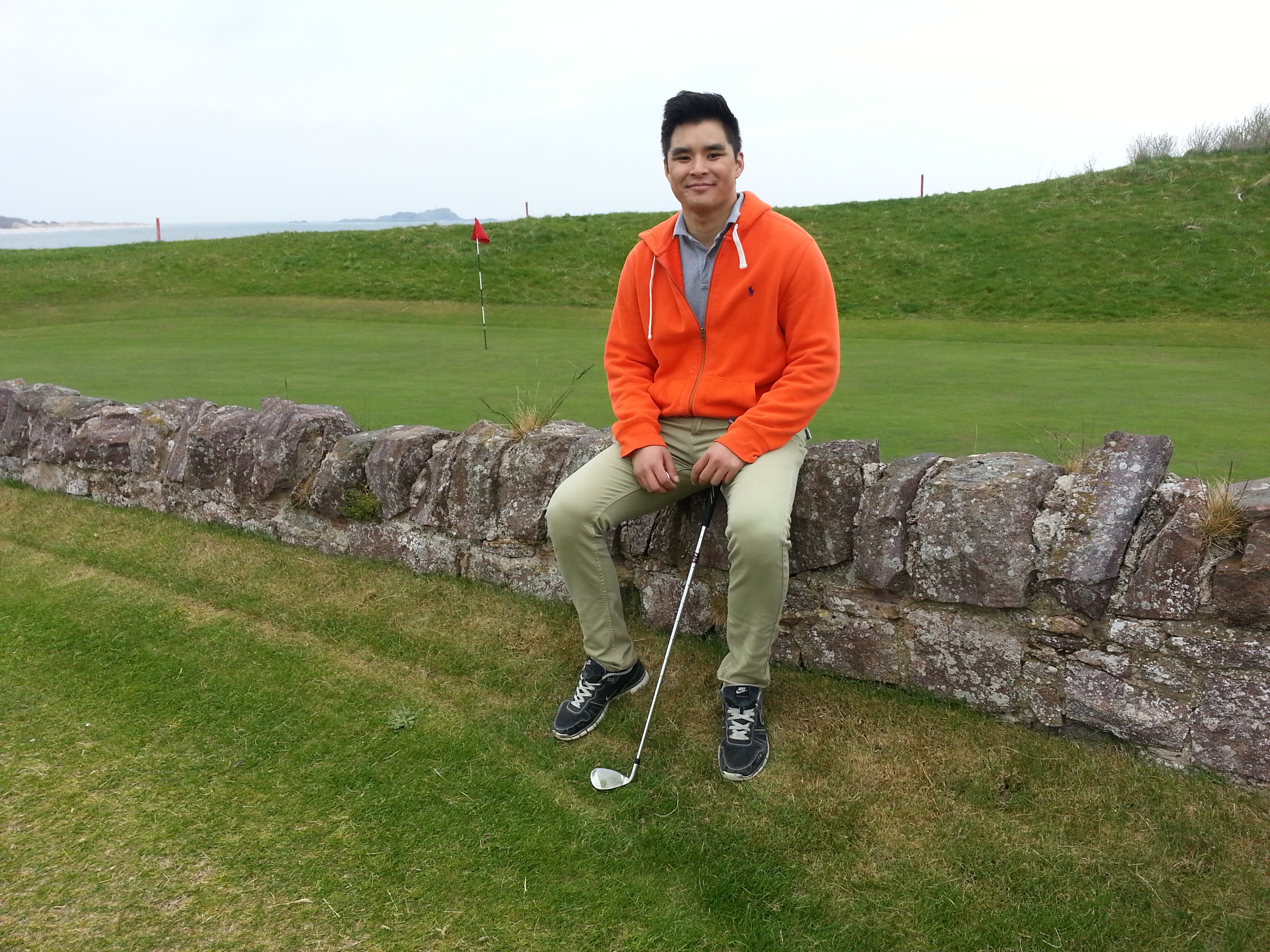 Harrison Nguyen, a first-year medical student at Baylor College of Medicine, was invited to speak at the International Investigative Dermatology Conference, which was held in Edinburgh, Scotland, this May.
This is an exceptional honor for a medical student, let alone a first-year.
Nguyen has been conducting research on Merkel cell carcinoma, a rare aggressive skin cancer, and specifically on viral carcinogenesis, the virus that causes this type of cancer, since he was an undergraduate student at Rice University.
Nguyen presented on the virus' protein binding partners at the conference. We asked Harrison to share his experiences with us.
How was your trip to Scotland?

My trip to Scotland was amazing. Edinburgh is a tremendously beautiful city that has preserved much of its old architecture.
What were you most excited about?
I was very excited to meet the other experts in the field whose papers I have been reading for the past five years. In particular, Dr. Paul Nghiem from University of Washington and Dr. James DiCaprio from Dana-Farber Cancer Institute/Harvard have published some highly influential findings on the Merkel Cell Polyomavirus. Both scientists were remarkably down-to-earth and, as I expected, very passionate about their work.
Even though I was honored to be in their presence, they truly treated me as a colleague, and we exchanged ideas on our work for several hours before and after the presentations. Another physician-scientist that I was excited to meet was Dr. Rachael Clark from Brigham-Women's Hospital/Harvard, who is one of the premier tumor immunologists in cutaneous oncology.
I hope to follow in the professional footsteps of these individuals, and the opportunity to meet them really solidified that dream.
What were you most nervous about?
I was most nervous about the questions and comments that I would receive after my presentation. I have presented many times on my work, but this was the first instance in which my audience was comprised of experts in my own field.
As a first-year medical student among established physicians and researchers, I was concerned that my work would not be taken seriously. However, I found the opposite to be true.
The audience appeared to be engaged in my work and asked questions that not only helped them to understand the context of my lab's findings but also gave me excellent ideas on what direction to take my work next.
What did you learn at the conference?
Listening to other scientists present not only on their recent findings but also on their failures (i.e. what antibody was most effective or particular cell lines to avoid) was extremely insightful for our lab's work. Most of the findings that were presented were unpublished data, so it was truly the most up-to-date information available.
My approach to understanding Merkel cell carcinoma can be characterized as more biochemical while it appeared that the majority of the presenters were taking an immunological perspective. Both paths are essential to understanding the pathogenesis of the disease and to, one day, developing a targeted therapy for this aggressive cancer.
The conference was a great interface for the convergence of these approaches.
What did you learn about speaking at such an important conference?
It was encouraging to receive positive feedback. It was also humbling to see that the key figures in the field truly valued and respected my work.
On a broader scale, I learned that these types of conferences that facilitate the sharing of ideas among scientists are extremely essential to overall progress toward a cure, especially for rare diseases such as Merkel cell carcinoma.
What advice do you have for students who are invited to attend or speak at such a conference?
My first piece of advice to other students who are looking to stand out is to pursue perfection in a specialized area – preferably one that has not been well-studied so that you have the opportunity to be at the forefront of the field.
For example, in my case, the Merkel Cell Polyomavirus (the infectious etiological agent of Merkel cell carcinoma) was discovered in 2008, which coincided with my matriculation at Rice University as well as the commencement of my research. As a result, it was not very difficult to become a leader in the field because the work was so new that literally every finding was "revolutionary."
My second piece of advice is to carefully pick a mentor who is supportive and is truly interested in your success. A committed mentor will open many doors for your career.
I am truly thankful for having Dr. Stephen Tyring as a mentor who has generously supported me financially, intellectually and professionally and provided me with many opportunities that I could not have conceived on my own.
Any additional information you'd like to add?
With the approval of my mentor Dr. Stephen Tyring, I will be collaborating with Dr. Paul Nghiem from University of Washington and Dr. Victor Huang from Harvard on a project that was borne from the conference. It's another example of an excellent opportunity that would not have been possible without Dr. Tyring's support.
-By Dipali Pathak