Recipe: Delicious shrimp pasta salad great for lunch or dinner
If you'd like to try a delightful meal that satisfies your seafood craving, look no further than the Baylor College of Medicine Sugar, Heart and Life Program's shrimp pasta salad recipe.
At 140 calories per serving (12 servings total), this recipe is packed with protein yet low on fat and carbohydrates – making it both heart healthy and nutritious.
Sugar, Heart and Life is an interactive web experience for patients with diabetes and their families. It features a guide to understanding diabetes, tips for eating at home and on the go, interactive games, information on how to accurately read food labels, and planning for physical activity.
Shrimp Pasta Salad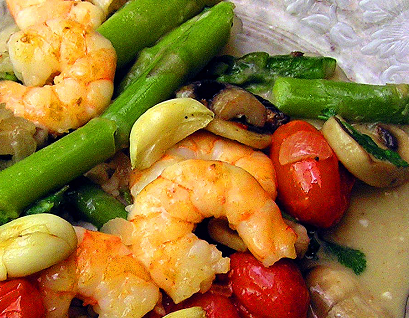 Ingredients
2 ½ cups medium shell pasta
1 cup (8oz) plain nonfat yogurt
2 tbsps. spicy brown mustard
2 tbsps. salt-free herb seasoning
1 ½ cup celery, chopped
1 cup green onion, sliced
1 pound small shrimp, cooked
3 cups (about 3 large) tomatoes, coarsely chopped
Preparation
Cook pasta according to directions – but do not add salt to water. Drain and cool.
In large bowl, stir together yogurt, mustard, and herb seasoning.
Add pasta, celery, and green onion, and mix well. Chill for at least 2 hours.
Just before serving, carefully stir in shrimp and tomatoes.
Looking for a tasty side to complement the salad? Check out our other dietitian-recommended recipes.