Healthy Habits: A reminder to breathe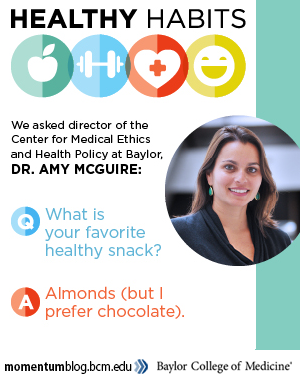 Taking care of your health is a priority and nobody knows that more than physicians and healthcare providers.
It can sometimes be difficult to find ways to stay healthy, so we've asked members of our Baylor College of Medicine community to share what they do in their daily lives to maintain a healthy lifestyle.
Dr. Amy McGuire, director of the Center for Medical Ethics and Health Policy at Baylor, tells us how she stays active.
Q: What healthy decisions start your day?
A: 24 ounces of water or hot tea
A: What is your go-to healthy breakfast?
A: Protein bar
Q: What is your favorite type of exercise?
A: Yoga
Q:What keeps you motivated during your workout? (music, tv, phone call, etc.)
A: Pandora (depending on my mood I either listen to 80s music or the rap stations that my kids have saved)
Q: What activities do you do when you can't fit in a full workout?
A: Elliptical machine in my house
Q: What is your favorite healthy snack?
A: Almonds (but I prefer chocolate)
Q: How do you make an unhealthy recipe healthy (healthy substitutions?)
A: I use skim milk and lean beef or turkey
Q: What is your nighttime skincare regimen?
A: Rodan Fields
Q: What hobbies do you have to help you relax?
A: Boating
Q: What is your go-to Houston restaurant for a healthy meal
A: Sashimi at Ginza
Q: What is your favorite health tip that you live by?
A: When the going gets rough, just breathe
Additional Resources
Healthy Habits: Early-morning exercise jump starts Dr. Jim McDeavitt's day
Dr. Michelle Barajaz finds options help her kids make healthy lunch choices
See how Baylor stays fit with more healthy habits from members of our community
See how Baylor promotes a culture of healthy living and wellness