Healthy Habits: Early-morning exercise jump starts Dr. James McDeavitt's day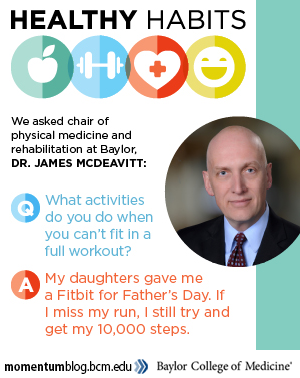 Taking care of your health is a priority and nobody knows that more than physicians and healthcare providers.
It can sometimes be difficult to find ways to stay healthy, so we've asked members of our Baylor College of Medicine community to share what they do in their daily lives to maintain a healthy lifestyle.
Dr. James McDeavitt, senior vice president and dean of clinical strategy and growth and chair of physical medicine and rehabilitation at Baylor, tells us how he unplugs during his workouts and downtime.
Q: What healthy decisions start your day?
A: I am an early morning exerciser, and have been fairly consistent since the mid-1990s.
Q: What is your go-to healthy breakfast?
A: During the week, I am not a big breakfast person. Coffee, sometimes toast and fruit. If I have more time, a couple of eggs, or oatmeal.
Q: What is your favorite type of exercise?
A: I like to run outside, early in the morning when it is quiet (and relatively cool).
Q: What keeps you motivated during your workout?
A; I like to stay disconnected…no cell phone, no music, no electronics.
Q: What activities do you do when you can't fit in a full workout?
A: My daughters gave me a Fitbit for Father's Day. If I miss my run, I still try and get my 10,000 steps.
Q: What is your favorite healthy snack?
A: Hummus and raw vegetables.
Q: What hobbies do you have to help you relax?
A: I like to play golf, and walk the golf course.  It is an activity that focuses you in the moment, and is also "electronics free"…no cell phone, email, texts, social networking.
Q: What is your go-to Houston restaurant for a healthy meal?
A: I like Corner Table near the corner of Kirby and Westheimer. It is a "paleo" restaurant; the entrees are well prepared and presented, but low-carb and no processed foods.
Q: Do you use a pedometer or Fitbit and what is your daily step goal?
A: I have a Fitbit, and I try and hit 10,000 steps every day.
Q: What is your favorite health tip that you live by?
A: In all things, moderation.
Additional Resources
Dr. Michelle Barajaz finds options help her kids make healthy lunch choices
Healthy habits: Tennis, walking help keep Dr. Zoorob active
See how Baylor stays fit with more healthy habits from members of our community
See how Baylor promotes a culture of healthy living and wellness