Healthy Habits: Helping kids make healthy lunch choices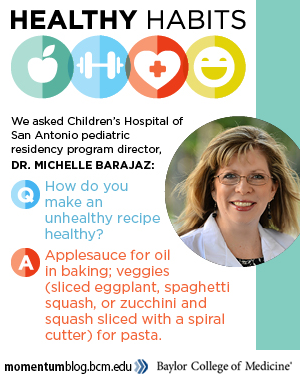 Taking care of your health is a priority and nobody knows that more than physicians and healthcare providers.
It can sometimes be difficult to find ways to stay healthy, so we've asked members of our Baylor College of Medicine community to share what they do in their daily lives to maintain a healthy lifestyle.
Dr. Michelle Barajaz, pediatric residency program director for Baylor/San Antonio at the Children's Hospital of San Antonio and assistant professor of pediatrics at Baylor, tells us her healthy habits.
Q: What healthy decisions start your day?
A: I use my drive in to center myself each day – with prayer, a focus on the big picture, and some time to mentally prioritize my day. It helps my stress level and outlook tremendously.
Q: What is your go-to healthy breakfast?
A: My two favorites are a smoothie with mixed frozen fruit, kale, spinach, and a little artificial sweetener; or a small omelet with egg substitute and veggies topped with a lite creamy Swiss cheese wedge and Cajun seasoning.
Q: What is your favorite type of exercise?
A: Walking
Q: What activities do you do when you can't fit in a full workout?
A: Stairs, parking further away
Q: What is your favorite healthy snack?
A: Fresh fruit
Q: Do you take vitamins and if so, which ones?
A: Multivitamin
Q: What do you include in your child's lunch?
A: In addition to a main item like a sandwich or roll up, they each choose one dairy (like a yogurt or cheese stick), one carb (granola bar, veggie sticks, popcorn, goldfish, etc.), and one fruit/veggie choice (like applesauce, fresh fruit, or carrot sticks) from the healthy items we stock. They like getting to make their own choices. We also do small water bottles and they get to pick their own sugar-free flavor drops to flavor them. We keep 5 or 6 flavors on hand and they come up with some pretty interesting cocktails.
Q: How do you make an unhealthy recipe healthy (healthy substitutions?)
A: Applesauce for oil in baking or veggies (sliced eggplant, spaghetti squash, or zucchini and squash sliced with a spiral cutter) for pasta
Q: What hobbies do you have to help you relax?
A: Gardening, reading, weekend naps, and snuggle time with my kids
Q: What is your go-to San Antonio restaurant for a healthy meal?
A: I love Thai Topaz on NW Military- one of the owners is a physician and they have a great spin on healthy and delicious Thai food
Q: Do you use a pedometer or Fitbit and what is your daily step goal?
A: 10,000. I usually hit it on my days off but it is much harder the days I work.
Additional Resources
Healthy habits: Tennis, walking help keep Dr. Zoorob active
Healthy Habits: Adding mindfulness to exercise routine
See how Baylor stays fit with more healthy habits from members of our community
See how Baylor promotes a culture of healthy living and wellness