Healthy Habits: Adding mindfulness to exercise routine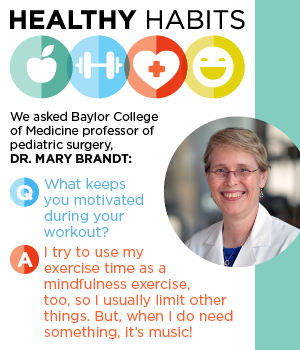 Taking care of your health is a priority and nobody knows that more than physicians and healthcare providers.
It can sometimes be difficult to find ways to stay healthy, so we've asked members of our Baylor College of Medicine community to share what they do in their daily lives to maintain a healthy lifestyle.
Dr. Mary Brandt, senior associate dean for student affairs in the School of Medicine and professor of pediatric surgery at Baylor, tells us how she maintains a healthy lifestyle with her hectic schedule.
Q: What healthy decisions start your day?
A: I try to exercise in the morning before work because otherwise it's hard to make sure it happens.
Q: What is your go-to healthy breakfast?
A: Cereal and fruit
Q: What is your favorite type of exercise?
A: Depends on the season! Walking, swimming, tennis, working out at the gym
Q: What keeps you motivated during your workout?
A: I try to use my exercise time as a mindfulness exercise, too, so I usually limit other things. But, when I do need something, it's music!
Q: What activities do you do when you can't fit in a full workout?
A: Count steps for the day
Q: What is your favorite healthy snack?
A: Fruit
Q: Do you take vitamins and if so, which ones?
A: There's no indication that they help and some data that they may hurt unless you have a documented deficiency (most commonly Vitamin D)
Q: How do you make an unhealthy recipe healthy (healthy substitutions?)
A: I try not to cook unhealthy recipes!
Q: What is your nighttime skincare regimen?
A: I'm a minimalist – gentle cleaning, sunscreen if I'm out during the day
Q: What hobbies do you have to help you relax?
A: Writing, reading novels, cooking
Q: What is your go-to Houston restaurant for a healthy meal?
A: You can put together a healthy meal at almost any restaurant (other than fast food restaurants). My favorite restaurant is Sparrow in Midtown.
Q: Do you use a pedometer or Fitbit and what is your daily step goal?
A: Just moved from a Fitbit to an Apple watch – my goal is 10,000 steps/day.
Q: What is your favorite health tip that you live by?
A: "Eat food. Not too much. Mostly plants." – Michael Pollan
Additional Resources
Dr. Todd Rosengart says skip the elevator, take the stairs
Healthy Habits: How exercise influences mental health
See how Baylor stays fit with more healthy habits from members of our community
See how Baylor promotes a culture of healthy living and wellness