Healthy Habits: Tennis, walking help keep Dr. Zoorob active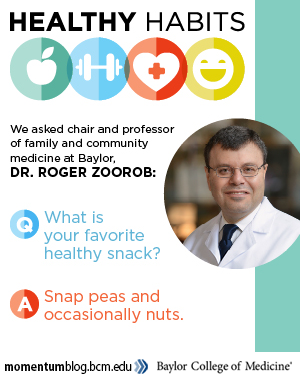 Taking care of your health is a priority and nobody knows that more than physicians and healthcare providers.
It can sometimes be difficult to find ways to stay healthy, so we've asked members of our Baylor College of Medicine community to share what they do in their daily lives to maintain a healthy lifestyle.
Dr. Roger Zoorob, chair and professor of family and community medicine at Baylor, tells us how he stays fit.
Q: What is your go-to healthy breakfast?
A: My usual breakfast, depending on what is available at home, is a choice of a banana, an apple or peach and/or a small size wheat bagel with no cheese. If not available, then a healthy cereal with less than 5 grams of sugar instead of the bagel.
Q: What is your favorite type of exercise?
A: Tennis
Q: What keeps you motivated during your workout?
A: Tennis is engaging by itself so no need to do anything else.
Q: What activities do you do when you can't fit in a full workout?
A: Walking around the neighborhood for a minimum of 2 to 3 miles. I like that more than treadmill or gym workout.
Q: What is your favorite healthy snack?
A: Snap peas and occasionally nuts.
Q: What hobbies do you have to help you relax?
A: Listening to classical music.
Q: Do you use a pedometer or Fitbit and, if so, what is your daily step goal?
A: I did for a while with a step goal of 10,000 steps but now I am doing without it.
Additional Resources
Healthy Habits: Adding mindfulness to exercise routine
Dr. Todd Rosengart says skip the elevator, take the stairs
See how Baylor stays fit with more healthy habits from members of our community
See how Baylor promotes a culture of healthy living and wellness