Online program aims to aid in weight loss for women with physical limitations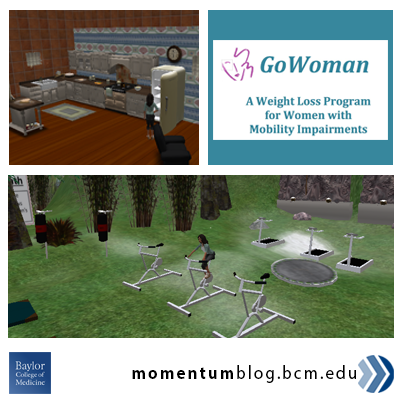 If you really want to see something rarer than a vegetarian at a rib cook-off, try looking for a woman in a wheelchair at Jenny Craig, Weight Watchers, or 24 Hour Fitness. Why are we such rare birds in these environments?
The answer is simple – these programs don't really understand what it's like to try to lose weight when exercising is simply not an option. They may give good advice. However, they don't even have an accessible scale where people who can't stand could weight themselves, much less accessible exercise equipment.
As faculty in the Baylor Department of Physical Medicine and Rehabilitation and executive director of the department's Center for Research on Women with Disabilities, I have been studying how women like me, living in the community with significant physical limitations, are able to maintain good health. That's why my team and I started the GoWoman program.
When it comes to weight management, here are just a few of the frustrations we have to deal with:
Having to figure out some way to burn calories that won't also burning out overworked muscles
Having to take medications that have weight gain as a side effect
Being so tired at times that the only comfort to be found is in a piece of Godiva dark chocolate (well, maybe more than sometimes)
Wanting to spend active time outside with my kids when it's so hard to find smooth, accessible sidewalks and parks
Trying to talk to my doctors about losing weight when they have no idea what to recommend
One innovative way we are addressing these challenges is by using the Internet to bring together women with disabilities to share solutions they have discovered through trial and error.
Our project started with the Diabetes Prevention Program that was developed and thoroughly tested about 15 years ago.
We added information about how mobility impairment interacts with diet and metabolism, physical activity, psychology, and the environment. We also modified the curriculum so it is responsive to the life situation of women.
We are now testing this program with small groups of women who have mobility limitations, but instead of making them deal with all the hassles of coming to one location, we hold our meetings in the virtual online world of Second Life.
Stay tuned to this blog to learn more about weight loss and women with mobility impairments, and to hear about our progress as we develop the GoWoman program.
Your input would be really valuable, so please tell us about your experiences trying to lose weight when exercise is more of a challenge than a choice.