Living in a 'food desert': Tips to help maintain a healthy lifestyle
Having convenient access to fresh, healthy food options can easily be taken for granted. According to the United States Department of Agriculture, 2.3 million Americans live in low-income areas that are more than 10 miles from a grocery store or supermarket. This situation becomes extremely difficult when there is no access to a car or public transportation.
The CDC defines a "food desert" as an area that lacks access to affordable whole grains, fruits, vegetables, and other foods that make up the full range of a healthy diet. Typically, food deserts are areas where the primary options for food are fast food restaurants or convenience stores.
Individuals with disabilities are much more likely to live in poverty – many are supporting themselves and their families on Social Security or disability benefits, so they often live in food deserts.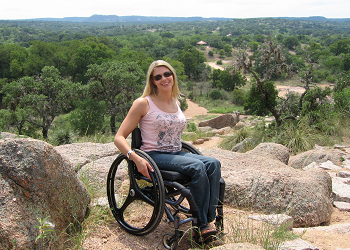 Though there are several factors that define a food desert, in my opinion, what really matters is your own experience of having limited access to healthy food. You may have a grocery store just down the street, but if you can't get there because of environmental barriers or because there is no one to help you carry the groceries home, it's just like living in a food desert.
Fortunately, there are methods you can use to help plan healthy meals if you live in a food desert:
Find a good grocery store or supermarket to go to occasionally and stock up on dried and frozen produce that can last several months. Remember to watch your ingredients to avoid added sugar and salt, when possible.
Plan these grocery trips in advance, arrange transportation, and bring someone to help load and unload.
Before you go, make sure you have storage space for the extra groceries. It may take some time and creativity to store everything, but it will be well worth the effort.
Farmer's markets and community gardens are a great resource for fresh foods. Try to ask the market host or garden manager about accessibility beforehand and remember to bring cash as farmers often don't take credit cards. Some larger markets are now accepting SNAP and/or WIC cards, but always call ahead to check.
Co-ops are a cool option where groups of people make an agreement with local farmers to pay an upfront membership fee and receive a basket of fruits and vegetables the farmers grow each month. Find a farmers market or co-op near you.
Home delivery service is also an option. These can be pricey, but some stores offer cheaper (or even free) delivery at certain times of day.
Lastly, look into grocery stores near work, school, or your doctor's office.
There are still healthy options at most convenience stores or smaller grocery stores. They often have nuts, granola bars, whole grain cereal, and low-fat milk. Some also offer fresh fruit, which is usually located by the register.
Many fast food chains also offer healthier options. Don't hesitate to ask for nutritional information on their menu items. Chain restaurants are required to make this information available. Some things to look for or ask about include:
Baked or grilled vs. fried options
Whole grains
Steamed vegetables
Salads (with limited dressing)
Lean protein such as fish, beans or chicken breast
Maintaining a nutritious diet can be a challenge while living in a food desert, but don't let that keep you from being your healthiest self!
-By Stephanie Silveira, research assistant for the GoWoman study at the Center for Research on Women with Disabilities at Baylor College of Medicine and TIRR-Memorial Hermann