Seasonal staple serves up full flavor, less calories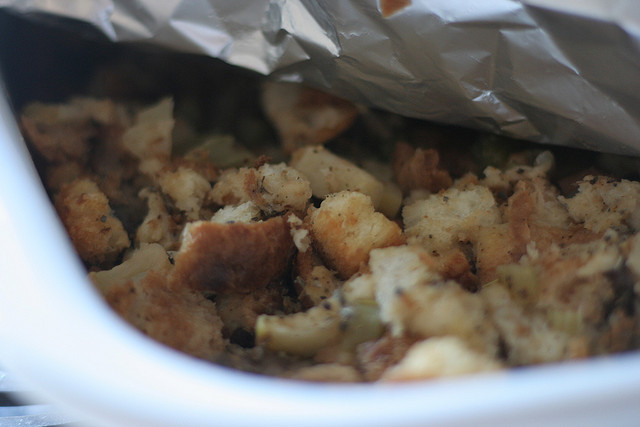 With the holidays in sight, could you use a little help when it comes to planning a family meal that's delicious and healthy, too?
This health-conscious recipe eliminates eggs and butter for a lighter stuffing side dish.
This recipe comes from the Texas Children's Hospital Adolescent Bariatric Cooking Class that Baylor College of Medicine students help host. The nutrition class features healthier recipes for patients and their families who are part of the bariatric surgery program at Texas Children's Hospital.
Apple and Herb Stuffing on the Stove
Ingredients
2 small or 1 large loaf hearty wheat bread (baguettes, sourdough, etc)
2 cups diced yellow onion
2 cups diced celery
3 tbsps. olive oil
1 tbsp. poultry seasoning
2 tbsp. chopped fresh parsley
1 Granny Smith Apple, peeled, cored, and diced
Salt and pepper to taste
Directions
Cube bread and toast in oven and dry and edges are golden.
Heat oil in large pot or dutch oven, add onions, celery, and poultry seasoning. Cook until vegetable are soft, approximately 10 minutes.
Add diced apples, cook until apples begin to soften.
Stir in bread and parsley, then add enough chicken stock to moisten stuffing. Cover and cook on low until apples are soften and flavors have combined.
Additional Resources
New take on an old classic: Mash cauliflower instead of potatoes.
Looking for ways to cut calories in baking? Check out these swaps from our dietitians.
Diabetic? Our experts offer tips for coping with the spirit of indulgence during the holiday season.
Save