Healthy Habits: Circuit training, minimizing butter intake help Dr. Peter Chang stay fit
It can sometimes be difficult to find ways to stay healthy, so we've asked members of our Baylor College of Medicine community to share what they do in their daily lives to maintain a healthy lifestyle.
Dr. Peter Chang, associate professor of ophthalmology at Baylor, shares some of his healthy habits with us.
Q: What health decisions start your day?
A: I try to maintain a daily routine of exercise and a healthy diet, starting with a morning walk while listening to a daily news podcast.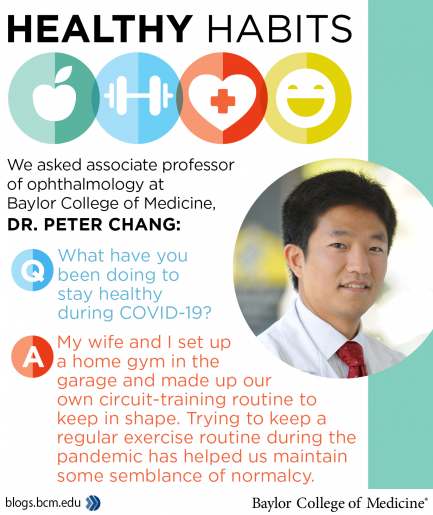 Q: What is your go-to healthy breakfast?
A: A bowl of Honey Bunches of Oats with skim milk.
Q: What is your favorite type of exercise?
A: Circuit-training: A 60-minute session of Orangetheory Fitness workout at least once a week, twice if I have a three-day holiday weekend.
Q: What keeps you motivated during your workout?
A: My wife works out with me so we can stay motivated and be accountable to one another.
Q: What activities do you do when you can't fit in a full workout?
A: Every night, I do 60 sit-ups, 60 push-ups, 60 side-crunches, and as many pull-up bars as I can (about 13 so far!) My family, including our teo teenage children, have made a routine of doing sit-ups and push-ups together each night.
Q: What have you been doing to stay healthy during COVID-19?
A: My wife and I set up a home gym in the garage and made up our own circuit training routine to keep in shape. Trying to keep a regular exercise routine during the pandemic has helped us maintain some semblance of normalcy.
Q: What is your favorite healthful snack?
A: Peaches and apples.
Q: Do you take vitamins and if so, which ones?
A: My children take a Flintstone gummy vitamin, and I take two gummies with them every day! I also take an additional vitamin D supplement as my doctor has recommended.
Q: What do you include in your child's lunch?
A: Typical lunch would be a turkey and hummus sandwich or PB&J sandwich. There is always some type of fruit included, such as grapes, strawberries, or raspberries.
Q: How do you make an unhealthy recipe healthy?
A: We always try to eliminate butter from any recipe. If it's not possible, we substitute butter with organic coconut oil.
Q: What is your nighttime skin regimen?
A:  I keep it simple with soap and water.
Q: What hobbies do you have to help you relax?
A: Long walks with my dog (golden retriever-German shepherd mix) while listening to music or a podcast.
Q: What is your go-to Houston restaurant for a healthy meal?
A: Sweetgreen or Salata.
Q: Do you use an activity tracker or Fitbit and what is your daily step goal?
A: I used Fitbit for many years, but the last one I had finally died on me. I now just use Google Fit that is built into my Galaxy smartphone. My goal is to get 10,000 steps daily.
Q: What is your favorite health tip that you live by?
A: Stop eating when you're no longer hungry instead of eating until you're full.
Additional Resources
Dr. Erica Soltero enjoys painting, outdoor time to stay energized
Meal planning, spending time outdoors key for Dr. Jill Weatherhead
Read more healthy habits from members of our community.
Learn how Baylor promotes a culture of healthy living and wellness.