Healthy Habits: Meal planning, spending time outdoors key for Dr. Jill Weatherhead
It can sometimes be difficult to find ways to stay healthy, so we've asked members of our Baylor College of Medicine community to share what they do in their daily lives to maintain a healthy lifestyle.
Dr. Jill Weatherhead, assistant professor of pediatrics-tropical medicine and infectious disease at Baylor, shares some of her healthy habits with us.
Q: What health decisions start your day?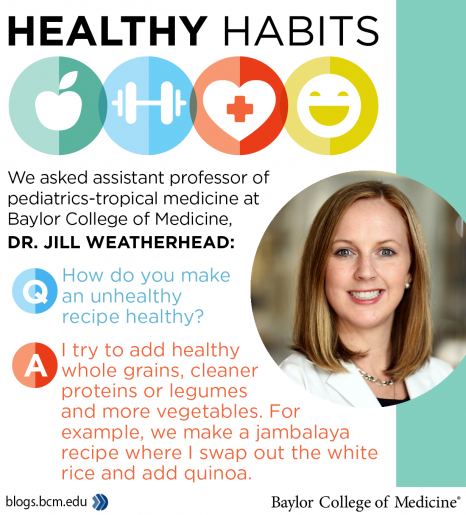 A: Healthy sleep habits at night help start my day off right in the morning. Restful wake is followed by an early morning run or biking and then breakfast. Mornings are my favorite and most productive time of day.
Q: What is your go-to healthy breakfast?
A: Yogurt with granola and berries, water, and decaf coffee.
Q: What is your favorite type of exercise?
A: I love to run. When it is too hot outside or if I am home alone with my young children, I ride a Peloton bike for spinning classes.
Q: What keeps you motivated during your workout?
A: Exercise helps me feel energized and strong. On days that I cannot exercise, I feel much more fatigued and unmotivated, and I am less productive (personally and professionally).
Q: What activities do you do when you can't fit in a full workout?
A: I try to walk to different locations instead of driving or calling (ie in the hospital, instead of calling the primary team to discuss the patient I walk to their office) and take the stairs as much as possible. I overall try to be more proactive about moving throughout the day.
Q: What have you been doing to stay healthy during COVID-19? Do you have any advice for coping with the pandemic?
A: Exercise and outdoor exposure are essential for mental and physical health. Social distancing practices make it easier to have a more sedentary lifestyle. I have a desk that hooks onto my stationary bike at home so that I can pedal during Zoom meetings. I also try to work outside as much as possible to get fresh air and sunlight. If a full workout is not possible, I try to take my kids for a walk or a bike ride.
Eating healthy is also difficult – particularly if you are restricting the number of visits to the grocery store. I try to meal plan and ensure enough healthy snacks such as nuts, fruit and vegetables are always available in the house.
Q: What is your favorite healthful snack?
A: A mix of any kind of fruit, especially blueberries! I have been known to eat quarts of blueberries at a time while studying or writing.
Q: Do you take vitamins and if so, which ones?
A: I take One A Day women's multi-vitamin.
Q: How do you make an unhealthy recipe healthy?
A:  I try to add healthy whole grains, cleaner proteins or legumes and more vegetables. For example, we make a jambalaya recipe where I swap out the white rice and add quinoa.
Q: What is your nighttime skin regimen?
A: At night, I wash my face with cleanser and then use a retinol refining moisturizer. In the morning, I use vitamin C and hyaluronic acid serum followed by moisturizer.
Q: What hobbies do you have to help you relax?
A: I love watching and playing sports. I also like to travel (pre-COVID) and experience new places and cultures. While travel is limited, I have been trying new restaurants and foods to keep my adventurous spirit engaged. I also love to read. I read before going to sleep every night.
Q: What is your go-to Houston restaurant for a healthy meal?
A: There are really too many to choose from and so many I haven't tried yet. I like restaurants with fresh ingredients and a lot of flavor. Most restaurants in Houston typically have healthy options on their menu. But some of my favorites are Pondicheri, Locals. Istanbul Grill, and anything Poke or sushi.
Q: Do you use an activity tracker or Fitbit and what is your daily step goal?
A: I use my Apple watch to track activity. I don't typically follow my steps but do like to make sure my "rings close" each day. I try my best to constantly move throughout day.
Q: What is your favorite health tip that you live by?
A: Stay hydrated with water throughout the day! I always walk around with my water bottle in hand and I try to avoid sugary beverages.
Additional Resources
Dr. Yana Finkelshteyn enjoys jogging outdoors, paints to relax
Virtual workouts, swimming help Dr. Juliet Holder-Haynes stay motivated
Read more healthy habits from members of our community.
Learn how Baylor promotes a culture of healthy living and wellness.