Healthy Habits: Dr. Erica Soltero enjoys painting, outdoor time to stay energized
It can sometimes be difficult to find ways to stay healthy, so we've asked members of our Baylor College of Medicine community to share what they do in their daily lives to maintain a healthy lifestyle.
Erica Soltero, Ph.D., assistant professor of pediatrics-nutrition at Baylor, shares some of her healthy habits with us.
Q: What health decisions start your day?
A: My first health decision is to get outside and get active. It's a great way to kickstart my day and energizes me for whatever else the day may bring.
Q: What is your go-to healthy breakfast?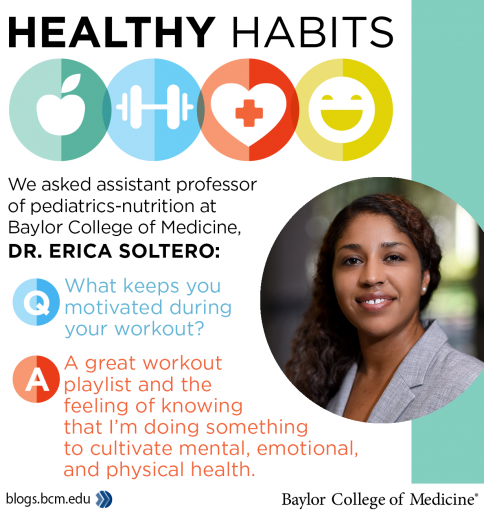 A: Fresh fruit over yogurt with granola.
Q: What is your favorite type of exercise?
A: Hiking, cycling, or basketball.
Q: What keeps you motivated during your workout?
A: A great workout playlist and the feeling of knowing that I'm doing something to cultivate mental, emotional, and physical health.
Q: What activities do you do when you can't fit in a full workout?
A: I head to YouTube and look for a core or HIIT workout video. You can usually find something to do in 30 minutes or less in a space as small as your hotel room.
Q: What have you been doing to stay healthy during COVID-19? Do you have any advice for coping with the pandemic?
A: For me, staying active has been a huge part of staying healthy during the pandemic. More often than not, it's the only time during the day that I get out of the house and get some fresh air. Zoom and Facetime have been great for staying in touch with family, friends, and colleagues. Whether it's using an app for a game night (Jackbox.TV, Houseparty) or a simple happy hour, I think it's really important to maintain our social and familial connections.
Another activity that I would recommend is journaling. I'm not very consistent and sometimes I just write down a few self-reflective thoughts, but I think it's a great way to check in with yourself during this time.
Q: What is your favorite healthful snack?
A: Apples and peanut butter!
Q: Do you take vitamins and if so, which ones?
A: I take a multi-vitamin for women.
Q: How do you make an unhealthy recipe healthy?
A: I try to find ways to either cut the carbs or add more veggies. No one really wants to see broccoli in their mac and cheese, but if you push yourself, you can come up with some creative ways to incorporate veggies into any recipe.
Q: What is your nighttime skin regimen?
A: I use cleanser and moisturizer.
Q: What hobbies do you have to help you relax?
A: I really enjoy painting, reading, and live music.
Q: What is your go-to Houston restaurant for a healthy meal?
A: Probably Zoës Kitchen. Healthy, Mediterranean options on the go.
Q: Do you use an activity tracker or Fitbit and what is your daily step goal?
A: I use an Apple watch. I don't actually have a daily step goal. My goals are to log 30 minutes of activity and burn 700 calories per day. And I will run the stairs in my townhouse if it means closing all three rings!
Q: What is your favorite health tip that you live by?
A: Your body is your home, take care of it!
Additional Resources
Meal planning, spending time outdoors key for Dr. Jill Weatherhead
Dr. Yana Finkelshteyn enjoys jogging outdoors, paints to relax
Read more healthy habits from members of our community.
Learn how Baylor promotes a culture of healthy living and wellness.