Breaking down vaccine myths, exploring the gut-brain connection, and discussing the latest cancer treatment advances are just a few of the highlights from the Momentum blog this year. We look forward to sharing more stories, advice and expert perspectives with you in 2020.
But before we ring in the new year, let's take a look back at some of our most viewed posts in 2019.
Borderline personality disorder, bipolar disorder and schizophrenia: What's the difference?
More than 11 million Americans experience a serious mental illness in a given year. However, the terms borderline personality disorder, bipolar disorder, and schizophrenia are often used interchangeably. Dr. Bella Schanzer breaks down the differences between these conditions.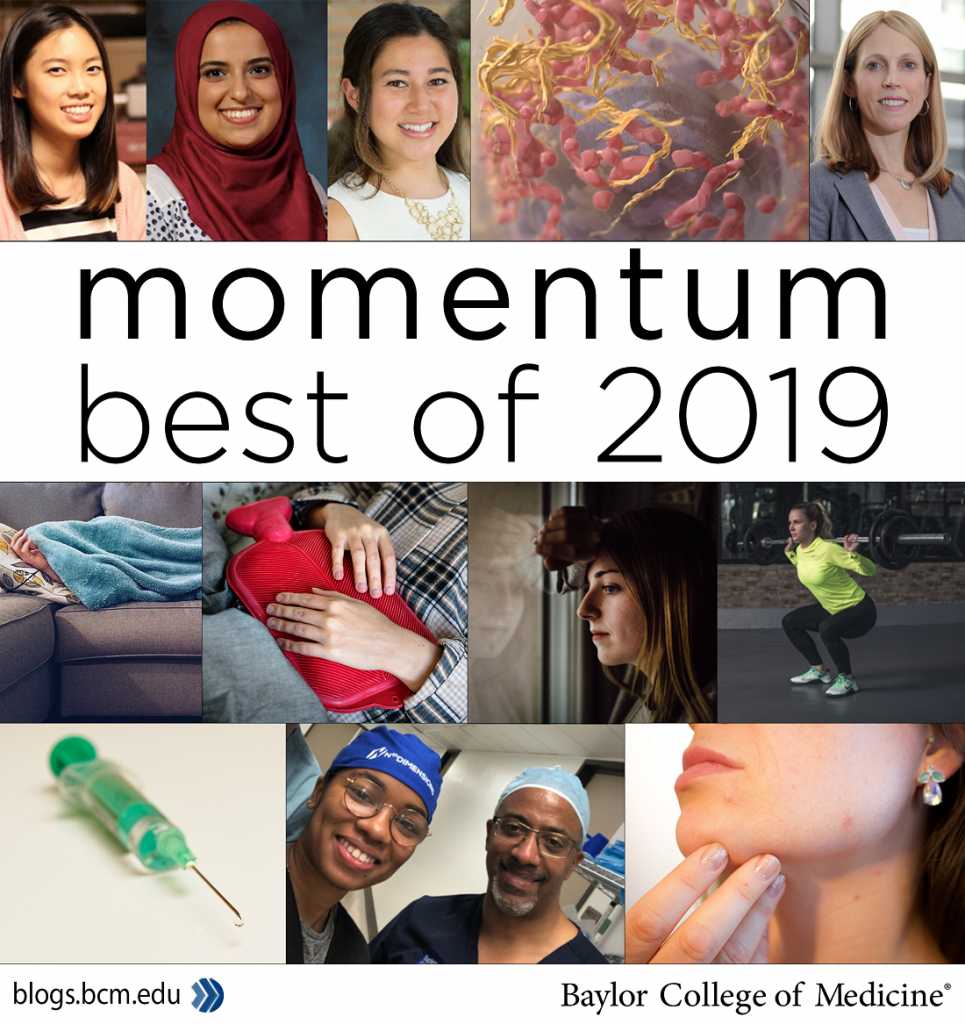 Women in medicine: Overcoming challenges and celebrating achievements
There are now more women than ever enrolled in U.S. medical schools. But research shows that women still face inherent gender biases as residents, researchers and practicing clinicians. Three Baylor College of Medicine trainees discuss how institutions can foster more gender-inclusive learning environments.
Addicted to the pop: Explore the world of pimple popping
While some people may abhor the thought of various substances being squeezed out of the human body, millions find it not only interesting, but therapeutic as well. Dr. Eric Storch, a psychologist and an avid fan of "Dr. Pimple Popper," explains why some people are addicted to watching "the pop."
The gut-brain connection: How psychotherapy treats irritable bowel syndrome
The feeling of 'butterflies' in your stomach is a normal response to anxiety, stress or even being around your crush. However, abdominal pain and abnormal bowel movements are red flags for a serious condition – irritable bowel syndrome, or IBS. Dr. Andrea Bradford explains the gut-brain connection, and how psychotherapy can improve IBS symptoms.
Vaccines and autism: Next question, please!
As an autism researcher, Dr. Robin Kochel often hears this question: "Do vaccines cause autism?" She discusses why this widespread theory is alarming, and how you can raise awareness about vaccine-preventable diseases.
Measles and adults: What you need to know
The United States saw more measles diagnoses in the first three months of 2019 than in all of 2018. Dr. Jeffrey Steinbauer talks about measles in adults and what you should know about immunity.
Early exposure helps cultivate diversity in orthopedic surgery
For many years, there has been a misconception that orthopedic surgery is a "man's field." To combat this myth, Dr. Melvyn Harrington says the key is to expose women and underrepresented minorities to the field even earlier than medical school. Learn how hands-on clinical programs are diversifying orthopedic surgery.
How immunotherapy is improving outlook for melanoma patients
Melanoma is the deadliest form of skin cancer in the world. While chemotherapy and radiation have long been the standard therapies, immunotherapy has emerged as an effective treatment for the disease. Dr. Daniel Wang explains how immunotherapy works and why melanoma research continues to evolve.
What you should know about rotator cuff tears
Rotator cuff tears are a common shoulder injury. They can occur during activities such as baseball, swimming, heavy weight lifting, contact and collision sports, or any other strenuous upper-extremity activity including falls or trauma. But can they be prevented? Dr. Theodore Shybut discusses.
Fact vs. fiction: Understanding OCD and related conditions
You may hear the term "OCD" used jokingly in pop culture. But for millions of Americans, obsessive-compulsive disorder can have a debilitating impact on many aspects of life. Dr. Eric Storch discusses what you should know about OCD and related conditions.
See more from the Baylor Blog Network
Get an inside look at the latest research in From the Labs.
Learn about student experiences in Progress Notes.
Check out PolicyWise for the latest news and commentary in health policy.
Relive Match Day and Graduation 2019 at Baylor.
-By Nicole Blanton