Toy truck partnership brings STEM education to Houston youth
For decades, the HESS Toy Truck has been a beloved gift for children nationwide. Through a partnership established with Baylor College of Medicine in 2017, the collectable toy trucks now help teach the younger generation about the world of STEM (science, technology, engineering and mathematics).
The Center for Educational Outreach at Baylor, in collaboration with the HESS Corporation, has developed free, downloadable STEM curriculum guides that use the toy trucks to educate elementary and middle school students on the principles of  physical science.
Dr. Nancy Moreno, associate provost of faculty development and institutional research at Baylor, said the curriculum is a creative way to engage students in STEM education and encourage them to pursue a career pathway to science or the health professions.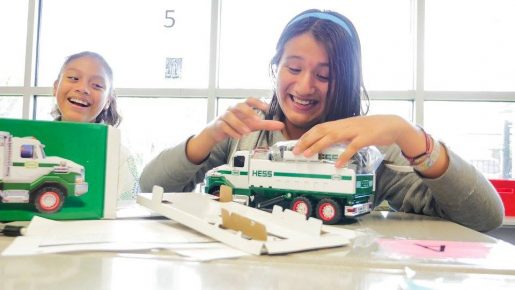 The curriculum guide is used for science lessons by some teachers at HISD schools. Asna Masood and Reuben Nicholas, teachers at the Baylor College of Medicine Academy at James D. Ryan Middle School, use the curriculum and toy trucks to teach their students the principles of force, motion, speed, velocity and energy.
"The curriculum is straightforward when it comes to teaching them force and motion, and it's easy to understand," Masood said. "The kids respond very well to it because it builds on the basics."
Masood and Nicholas said the pairing of the manual and truck goes with their classroom model: 'Hands on, Minds on.' Masood explains that the curriculum is not only a lecture, but a hands-on activity where students can physically apply what they learn from the lesson.
"It keeps the students engaged and they want to learn more," Nicholas said. "It prompts them to ask more questions and dig deeper into the lesson, so it has been very effective."
Each year, the curriculum guide and truck changes to focus on different aspects of science. The 2019 HESS toy is a tow truck with a flatbed carrier and rescue team that teaches students how friction is used when a vehicle is towed. The lessons are designed for elementary and middle school, but can be modified for any grade level.
Nicholas' sixth-grade science class uses the trucks for friction activities, where they collect and plot their own data while investigating force, energy, and distance.
"I think it's written well because my kids have always performed well in understanding it," Masood said. "I'm always building upon the information in the curriculum, so it's a good basis to develop on different concepts."
While the curriculum guide is free for anyone to download, the toy trucks can be purchased on the HESS website. HESS also holds a contest each year to give away the trucks and curriculum in a STEM kit to 1,000 teachers. Applications for the 2019 contest are being accepted through Dec. 31, 2019, and trucks will be delivered to the winners in February 2020.
-By Kaylee Dusang