Healthy Habits: Taking the stairs, morning exercise help Dr. Theodore Shybut stay fit
Taking care of your health is a priority and nobody knows that more than physicians and healthcare providers.
It can sometimes be difficult to find ways to stay healthy, so we've asked members of our Baylor College of Medicine community to share what they do in their daily lives to maintain a healthy lifestyle.
Dr. Theodore Shybut, assistant professor of orthopedic surgery at Baylor, shares some of his healthy habits with us.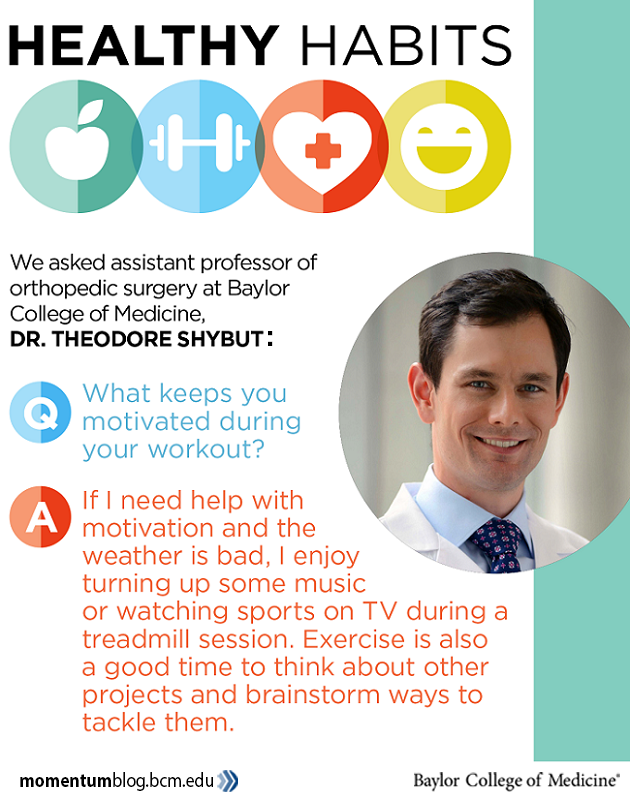 Q: What healthy decisions start your day?
A: I love coffee. Fortunately there is research supporting its health benefits. I brew fresh coffee every morning with beans from local roasters and bring it in to work. Katz Coffee Black Diamond and Lola Savannah Ultra Dark French Roast are two of my favorites.
I have also become a morning exerciser. On weekends you can often spot me on the Heights Boulevard running trail pushing my daughters in a double-bob stroller.
Q: What is your go-to healthy breakfast?
A: Coffee, water (the evidence for "staying hydrated" during the day is lacking but I feel better when I get a few glasses of water with each meal and a few more in between). I think it's a holdover from rowing intercollegiate crew and subsequently training for marathons. I always felt best when I hydrated leading up to long workouts or competitions.
I also incorporate whole grains, protein (low-fat dairy, eggs, etc.) and fruit.
Example breakfasts:
1. Flaxseed-whole wheat waffles with berries and skim milk.
2. Whole oat cereal with dried cherries and blueberries
3. Whole grain English muffin with low-fat cream cheese, smoked salmon and a fruit (orange, kiwi, cantaloupe or mango) side.
Q: What is your favorite type of exercise?
A: I have gone through phases, which include soccer, rowing, running, strength training, track workouts and circuit training.  Nowadays I run and sneak in occasional alternative workouts. I really enjoy running while on vacation – it's a great way to explore a new destination. Running was a big part of how I learned my way around Boston and New York during college and medical school.
Q: What keeps you motivated during your workout?
A: If I need some help with motivation and the weather is bad, I enjoy turning up some music or watching sports on TV during a treadmill session. Exercise is also a good time to think about other projects and brainstorm ways to tackle them.
Q: What activities do you do when you can't fit in a full workout?
A: Taking the stairs in the tall buildings of the Texas Medical Center is a great way to add activity to your day.
Q: What is your favorite healthy snack?
A: I have lots of favorites, including banana with chocolate and peanut butter, fresh fruit and granola, and sushi.
Q: Do you take vitamins and if so, which ones?
A: There is not overwhelming evidence for or against multivitamins. Many of us are vitamin D deficient. I take an occasional multivitamin (probably 1-2 times per month) and 2000 IU of vitamin D a few times per month. I think making appropriate diet and lifestyle choices (i.e.eating a varied diet rich in non-processed foods, regular exercise and physical activity) are far more essential to good health.
Q: What do you include in your child's lunch?
A: Both of my children love fruit. They usually gets fresh fruit (strawberries, blueberries, orange, grapes, pear, kiwi, apple, etc.) and a whole grain English muffin with baked turkey or peanut butter.
Q: How do you make an unhealthy recipe healthy (healthy substitutions?)
A: There are substitutions you can make like mixing in whole grain flours for baking, choosing leaner cuts of meat or using less oil or butter, but you can only change an unhealthy recipe so much. I think it's better to maintain overall balance in your diet and lifestyle. Eat fruits, vegetables, nuts, fish, whole grains, (healthy fats) regularly, exercise so you can enjoy delicious but less-healthy things like rare steak or lamb, a summertime ice cream cone or fried gulf oysters… I'm getting hungry.
Q: What is your go-to Houston restaurant for a healthy meal?
A: Admittedly I usually enjoy restaurants in Houston for their cuisine rather than nutritional value. We eat healthy meals at home. I think "foodie" is an overused term but my wife and I enjoy Houston's restaurant scene. It is great to see national press (NY Times, Washington Post, James Beard awards, etc.) recognizing the talent of our city's chefs.
Q: Do you use a pedometer or Fitbit and what is your daily step goal?
A: No. When I was running to race on weekends I used a Garmin device to track workouts and kept an exercise to monitor my mileage and interval/workout splits. My wife just got an Apple watch and uses it to track her workouts, daily step goals, etc.—it seems to work well.
Q: What is your favorite health tip that you live by?
A: Exercise is medicine.
Additional Resources
Staying hydrated, swimming key for Dr. Lisa Haubert
Laughter, setting goals help Dr. Paul Paily stay focused
See how Baylor stays fit with more healthy habits from members of our community
See how Baylor promotes a culture of healthy living and wellness