Healthy Habits: Staying hydrated, swimming key for Dr. Lisa Haubert
Taking care of your health is a priority and nobody knows that more than physicians and healthcare providers.
It can sometimes be difficult to find ways to stay healthy, so we've asked members of our Baylor College of Medicine community to share what they do in their daily lives to maintain a healthy lifestyle.
Dr. Lisa Haubert, assistant professor of surgery at Baylor, shares some of her healthy habits with us.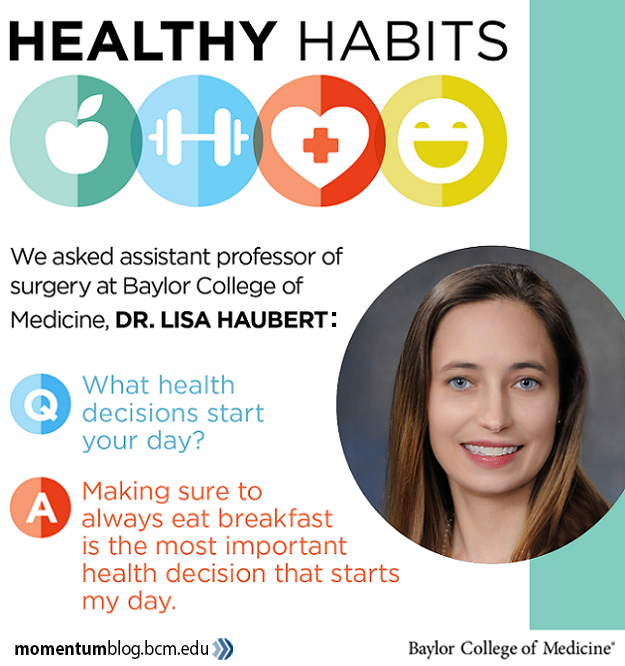 Q: What health decisions start your day?
A: Making sure to always eat breakfast is the most important health decision that starts my day.
Q: What is your go-to healthy breakfast?
A: Oatmeal with fresh blueberries.
Q: What is your favorite type of exercise?
A: Swimming.
Q: What keeps you motivated during your workout?
A: Knowing that I feel better after exercising keeps me motivated during my workout.
Q: What activities do you do when you can't fit in a full workout?
A: If I can't make it to the gym for a full work-out, I will use the elliptical to at least get some cardio.
Q: What is your favorite healthful snack?
A: Strawberries.
Q: Do you take vitamins and if so, which ones?
A: I take a women's multivitamin with calcium.
Q: How do you make an unhealthy recipe healthy (healthy substitutions)?
A: We use coconut oil as a substitute in recipes.
Q: What is your nighttime skin regimen?
A: I wash my face with an exfoliating soap.
Q: What hobbies do you have to help you relax?
A: I walk and play with my dogs.
Q: What is your go-to Houston restaurant for a healthy meal?
A: Snap Kitchen for the create-your-own salad.
Q: Do you use a pedometer or Fitbit and what is your daily step goal?
A: Pedometer. My goal is at least 10,000 steps per day.
Q: What is your favorite health tip that you live by?
A: Make sure to keep hydrated throughout the day by drinking at least eight glasses of water.
Additional Resources
Laughter, setting goals help Dr. Paul Paily stay focused
Positive energy motivates Dr. Rosalyn Nguyen to stay fit
See how Baylor stays fit with more healthy habits from members of our community
See how Baylor promotes a culture of healthy living and wellness