What inspires biomedical research?
This feature is part of an ongoing series that focuses on VIICTR.org, highlighting clinical and translational research at Baylor College of Medicine.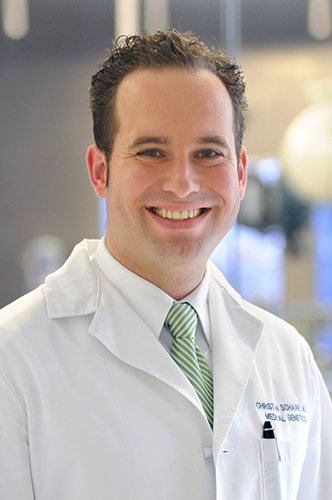 Dr. Christian Schaaf wants to identify the underlying cause of high-functioning autism. Schaaf, physician-scientist, is an assistant professor of molecular and human genetics at Baylor College of Medicine and a member of the Jan and Dan Duncan Neurological Research Institute at Texas Children's Hospital.
He says his drive in the lab comes from the families he meets.
"All of the projects I am working on started with a single individual patient I encountered in the clinic. Even years later… I still have these families in mind. And that's important when it comes to motivation, because basic science can be very frustrating. Having these families and their challenges in mind makes you see the bigger goal and helps you overcome your frustrations," Schaaf said.
Watch Schaaf explain his career path, work and translating his basic science work into clinical research.
Prior to training at Baylor to become a board-certified medical geneticist, Schaaf received his medical degree and doctoral degree in human genetics from the University of Heidelberg in Germany.
His postdoctoral research was conducted under the guidance and leadership of Dr. Huda Zoghbi, professor of pediatrics, molecular and human genetics, neurology and neuroscience at BCM and a Howard Hughes Medical Institute investigator.
Additional Resources
Cultivating a new generation of clinical investigators.
Explore the Virtually Integrated Institutions for Clinical and Translational Research.
Online resource helps connect researchers, resources
Advancing innovative research for Baylor scientists
Dr. Maria Monica Gramatges says being a physician and scientist is the best of both worlds.