Healthy Habits: Fitness classes, workout videos help Dr. Stephanie Morain stay active
Taking care of your health is a priority and nobody knows that more than physicians and healthcare providers.
It can sometimes be difficult to find ways to stay healthy, so we've asked members of our Baylor College of Medicine community to share what they do in their daily lives to maintain a healthy lifestyle.
Dr. Stephanie Morain, assistant professor in the Center for Medical Ethics and Health Policy at Baylor, shares some of her healthy habits with us.
Q: What health decisions start your day?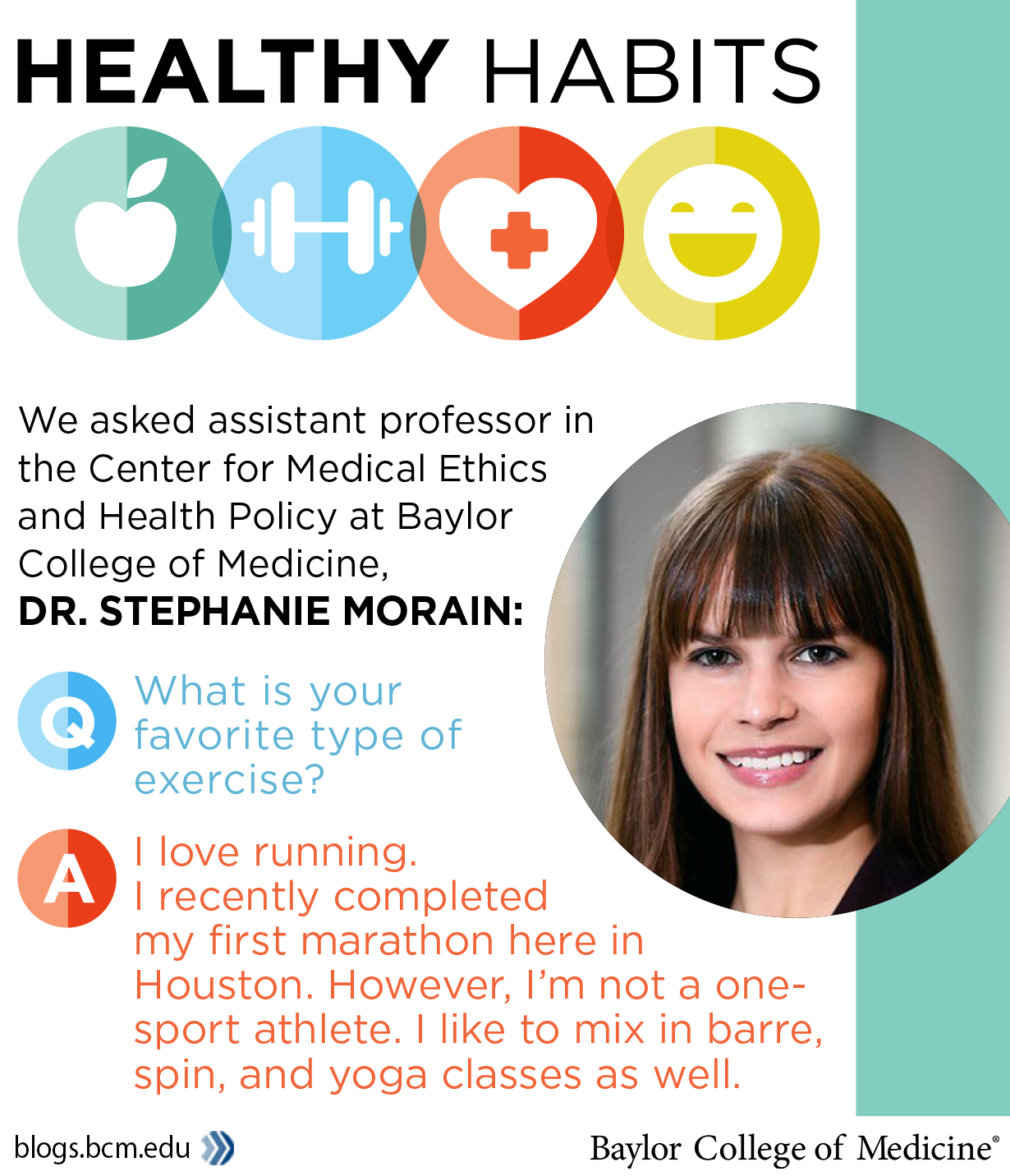 A: I start the day with movement, preferably with a run or a workout class. If I'm short on time, I'll stream a quick 15-minute yoga video to wake up my brain and body for the day.
Q: What is your go-to healthy breakfast?
A: I love cooking quinoa flakes or steel-cut oats in unsweetened soymilk, and then topping with fruit. I often add a little peanut butter or chopped nuts for protein. On weekends, I make pancakes with two ingredients — mashed banana and two eggs. It sounds weird but it's really good! I then top them with a little Greek yogurt and fresh berries. YUM!
Q: What is your favorite type of exercise?
A: I love running. I recently completed my first marathon here in Houston. However, I'm not a one-sport athlete. I like to mix in barre, spin and yoga classes as well.
Q: What keeps you motivated during your workout?
A: Knowing that no one wants to be around me if I don't sweat out some stress every day — myself included!
Q: What activities do you do when you can't fit in a full workout?
A: I really love Jasyoga's streaming video collection, which includes these great "reset" videos for athletes that are focused on a specific body part or purpose, such as training your glutes to activate properly when you run.
Q: What is your favorite healthful snack?
A: A few squares of dark chocolate or a matcha latte (without added sugar).
Q: How do you make an unhealthy recipe healthy (healthy substitutions)?
A: I play with ratios. For example, if I'm making a pasta dish, I'll add a lot of veggies and cut back a bit on the noodles. I also love using Greek yogurt instead of sour cream or butter. I'll mix it with pesto to make a tuna pesto salad for lunch or a creamy pasta sauce to toss over penne with canned salmon and peas for dinner. I also love to spoon it over baked potatoes with lots of broccoli and chives.
Q: What hobbies do you have to help you relax?
A: Yoga, cooking while listening to NPR, and cuddling my corgi, Oliver.
Q: What is your go-to Houston restaurant for a healthy meal?
A: Local Foods, Ruggles Green, Ruggles Black and True Food Kitchen.
Q: Do you use a pedometer or Fitbit and what is your daily step goal?
A: I stopped using a Fitbit. I think they can be a great tool, but I found myself a bit too focused on the destination rather than the journey. I would repeatedly check my step count when out on a gorgeous hike instead of enjoying the fresh air and beautiful views.
Q: What is your favorite health tip that you live by?
A: Sweat every day.
Additional Resources
Dr. Gabriel Loor enjoys martial arts, breathing exercises to stay focused
Adam Pena plays tennis, avoids overexertion during workouts
See how Baylor stays fit with more healthy habits from members of our community
See how Baylor promotes a culture of healthy living and wellness