Celebrate Pi Day with a new twist on pizza pie
Every year on the 14th day of the 3rd month, the internet gets together to celebrate Pi Day – you know, 3.14? This year we're celebrating Pi Day with a healthy and tasty cauliflower-crust pizza pie.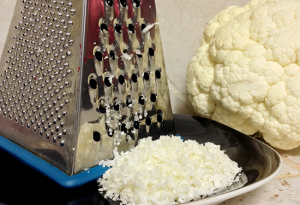 Replacing the traditional pizza dough with a crust made of grated cauliflower seems like an experiment from a competition cooking show gone mad, but this dish passes the taste test with flying colors. It was all the usual pizza ingredients like oregano, sauce and mozzarella, so it'll taste almost the same as "real" pizza with only a mild texture difference. And without the added calories and fat from the dough, this recipe, endorsed by Dr. Luis Rustveld, registered and licensed dietitian and assistant professor in the Department of Family and Community Medicine at Baylor College of Medicine, is a great way to have fun on Pi Day without the calories of a high-fat chocolate cream pie.
The following recipe serves two people.
Ingredients
2 ½ cups grated cauliflower
1 ½  tsps. dried oregano
1 tsp. garlic powder
¾ cup skim mozzarella cheese (separated)
1 egg
1 cup pizza sauce
Suggested pizza toppings: basil, artichoke, red peppers, onion, spinach, mushrooms or other favorite vegetables. If you have to have meat, low-fat turkey pepperoni is a healthy alternative.
Preparation
Preheat oven to 450.
Grate a head of cauliflower using a cheese grater until you have about 2 ½ cups.
Place cauliflower in a microwave safe bowl for about 4 minutes. Let it cool. The cauliflower will shrink some during microwaving.
Add oregano, garlic powder, egg and ¼ cup skim mozzarella cheese to bowl and mix well.
Lay the mixture out on a flat ungreased pan and spread it into a circle, mimicking pizza dough. Do not add pizza sauce or toppings yet.
Bake the "dough" until edges are golden, about 10 minutes. Remove from oven.
Top the crust with pizza sauce and remaining mozzarella. Top with your favorite vegetable toppings.
Place pizza under the broiler for a very short amount of time – don't take your eyes off it to prevent burning. This will melt the cheese, warm the sauce and bring out the flavor in the vegetables.
For more information about transitioning into a healthier lifestyle can look up Dr. Rustveld at the The Weight Management Program from Baylor Family Medicine.
More Recipes
Check out other healthy meal ideas, including a recipe for creamy cauliflower mashed "potatoes".