Healthy Habits: Uplifting music keeps Dr. Christina Weng motivated and energized
It can sometimes be difficult to find ways to stay healthy, so we've asked members of our Baylor College of Medicine community to share what they do in their daily lives to maintain a healthy lifestyle.
Dr. Christina Weng, assistant professor of ophthalmology at Baylor, shares some of her healthy habits with us.
Q: What is your favorite type of exercise?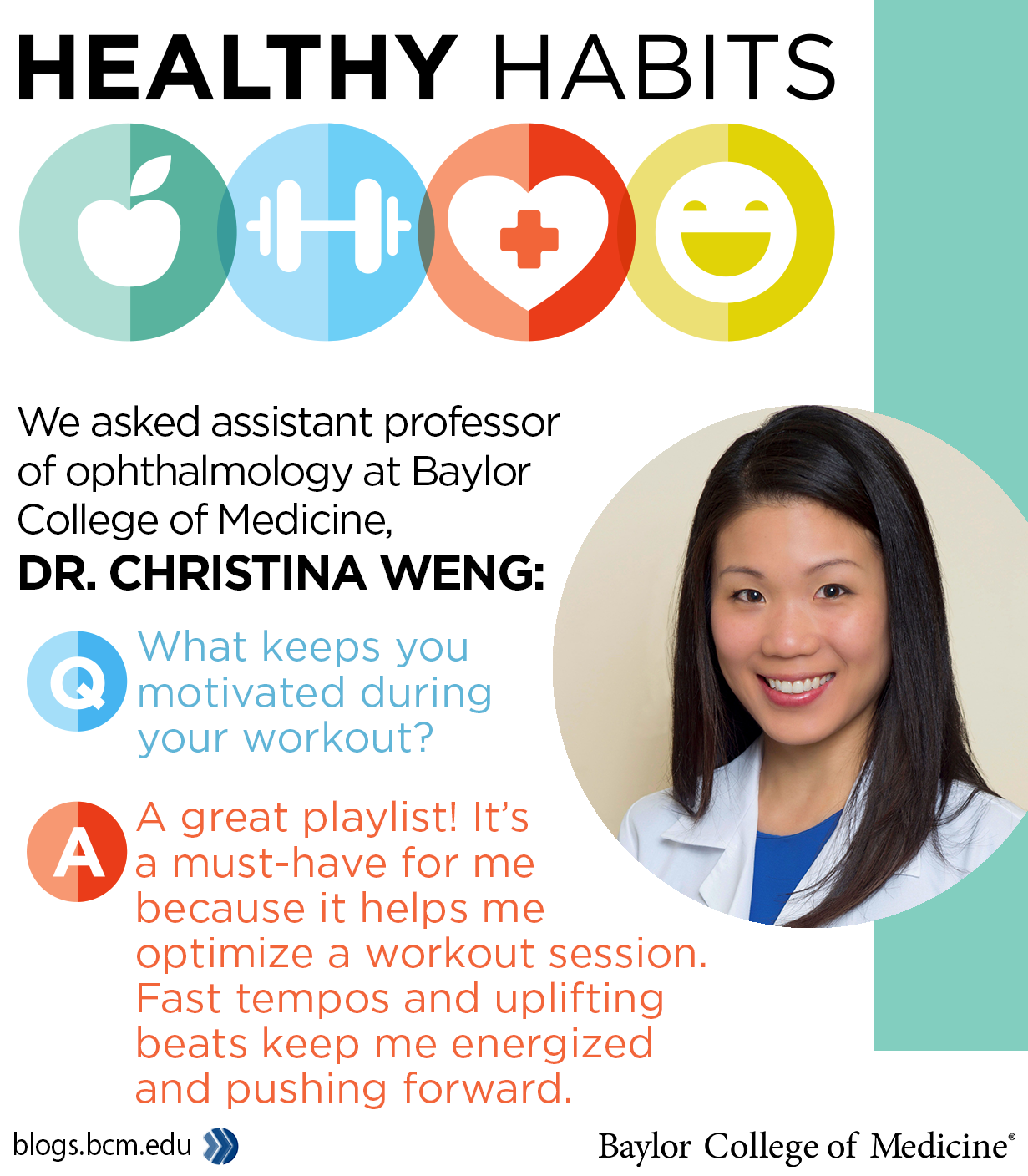 A: I love running because it gives me a chance to zone out and clear my head.
Q: What keeps you motivated during your workout?
A: A great playlist! It's a must-have for me because it helps me optimize a workout session. Fast tempos and uplifting beats keep me energized and pushing forward.
Q: What activities do you do when you can't fit in a full workout?
A: I have some long days and nights during my work week. Unfortunately, I can't always squeeze in a full workout. On those days, I try hard to get in as many steps as possible. I do this by parking farther away from my building, walking across the street for lunch, or taking a quick lap around the office when waiting for clinic to start. All of this adds up!
Q: What is your favorite healthful snack?
A: I love eating raw vegetables. It's a great way to get in fiber and other nutrients.
Q: Do you take vitamins and if so, which ones?
A: I recently found out that my Vitamin D level was quite low (not surprising for a lot of us who spend a lot of time indoors), so I now take supplements regularly. I'll also take an adult multivitamin on occasion, but not regularly.
Q: What is your nighttime skin regimen?
A: The one thing I always do before going to bed is remove my makeup. Other than that, I don't do much aside from washing my face with a basic drugstore facial cleanser and moisturizing with a product that contains retinol. I have used retinol for many years, and (I think) it has helped keep the wrinkles at bay!
Q: What is your go-to Houston restaurant for a healthy meal?
A: I love Local Foods, which has many fresh, healthy and tasty options! My favorite items on the menu are the kale salad and truffled egg sandwich. It's always great to support a local business as well.
Q: What is your favorite health tip that you live by?
A: "Everything in moderation."  Through my own experiences, I have found that any diet, wellness, or fitness regimen that is overly strict is unsustainable. I keep in mind that most things are fine in moderation — I'll treat myself to a cookie, but not five!
Additional Resources
Dr. Eric Storch plays soccer, walks daily to stay moving
Relaxing outdoors, high-protein breakfasts keep Dr. Mary Newsome fit
Read more healthy habits from members of our community.
Learn how Baylor promotes a culture of healthy living and wellness.