Healthy Habits: Dr. Chris Glover focuses on plyometrics and short sprints
Taking care of your health is a priority and nobody knows that more than physicians and healthcare providers.
It can sometimes be difficult to find ways to stay healthy, so we've asked members of our Baylor College of Medicine community to share what they do in their daily lives to maintain a healthy lifestyle.
Dr. Chris Glover, associate professor of pediatrics-anesthesiology at Baylor, shares some of his healthy habits with us.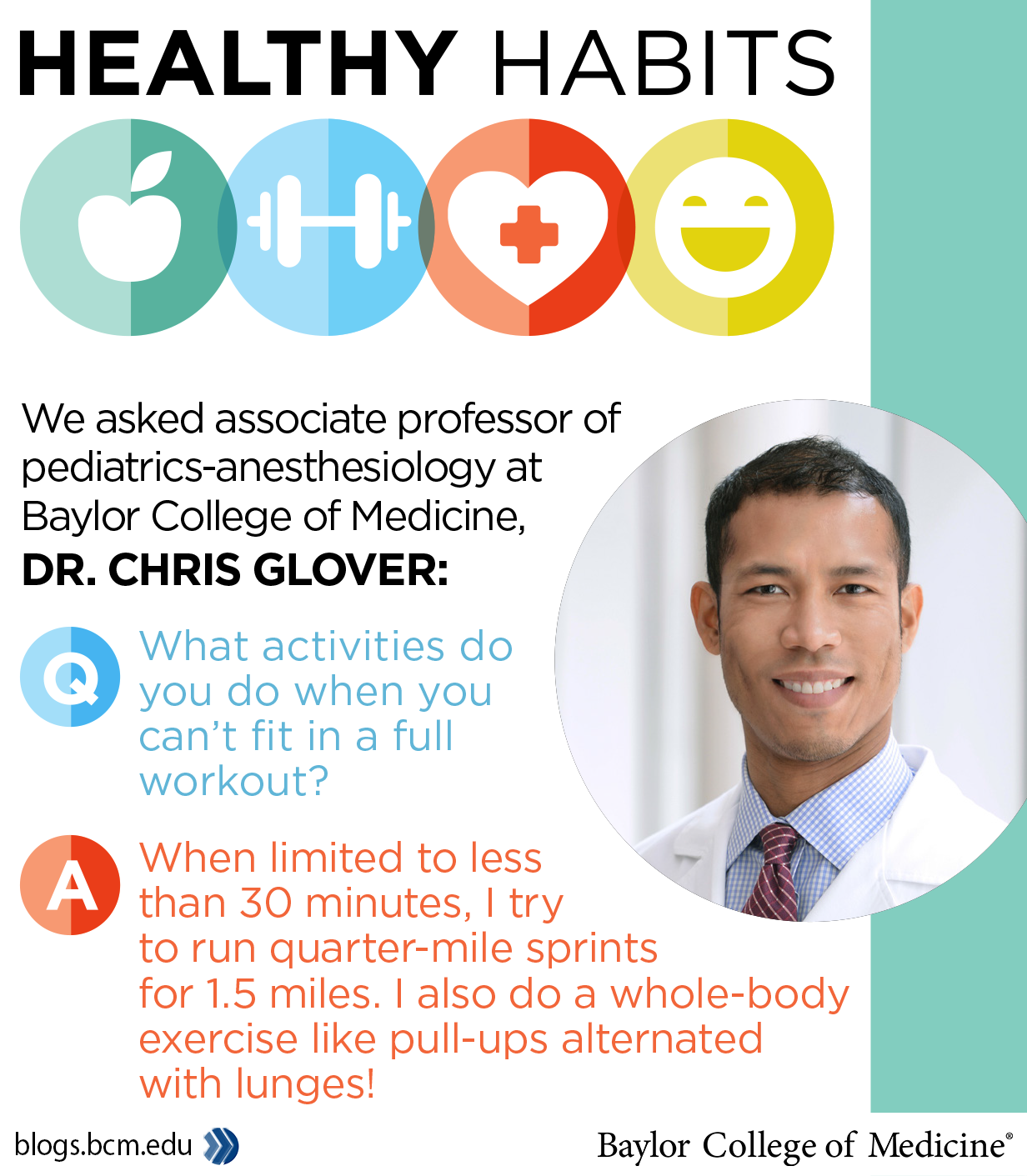 Q: What health decisions start your day?
A: Usually by listening to music that is calming or podcasts about things I am interested in (like Malcolm Gladwell – Revisionist History/Household Name.)
Q: What is your go-to healthy breakfast?
A: Spinach egg wrap with orange juice or coffee.
Q: What is your favorite type of exercise?
A: Plyometric work.
Q: What keeps you motivated during your workout?
A: Just blocking out the day.
Q: What activities do you do when you can't fit in a full workout?
A:  This happens some weeks more than others. When limited to less than 30 minutes, I try to run quarter-mile sprints for 1.5 miles. I also do a whole-body exercise like pull-ups alternated with lunges!
Q: What do you include in your child's lunch?
A: Fruit and water are always included.
Q: How do you make an unhealthy recipe healthy (healthy substitutions)?
A: Turkey for everyone and avoid the fryer.
Q: What hobbies do you have to help you relax?
A: I play basketball on the weekends.
Q: What is your go-to Houston restaurant for a healthy meal?
A: Nobie's.
Q: What is your favorite health tip that you live by?
A: We are never getting younger. We have to work to age healthily every step of the way.
Additional Resources
Dr. Alastair Thompson enjoys mountain running and freshly picked fruit
Enjoying live music, plant-based proteins keep Dr. Jennifer Taylor on track
See how Baylor stays fit with more healthy habits from members of our community
See how Baylor promotes a culture of healthy living and wellness