Healthy Habits: Enjoying live music, plant-based proteins keep Dr. Jennifer Taylor on track
Taking care of your health is a priority and nobody knows that more than physicians and healthcare providers.
It can sometimes be difficult to find ways to stay healthy, so we've asked members of our Baylor College of Medicine community to share what they do in their daily lives to maintain a healthy lifestyle.
Dr. Jennifer Taylor, assistant professor of urology at Baylor, shares some of her healthy habits with us.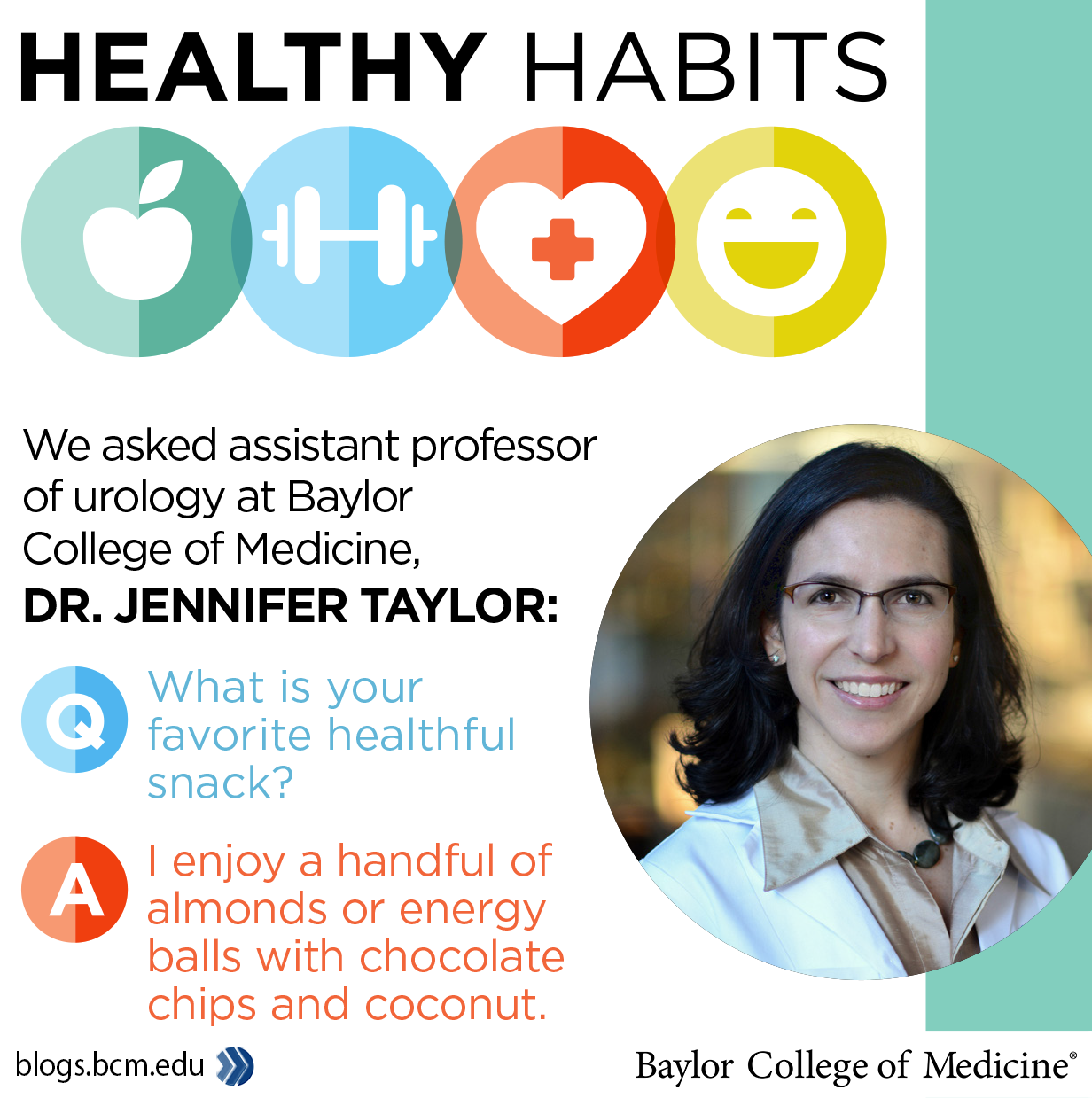 Q: What is your go-to healthy breakfast?
A: Hard-boiled eggs or scrambled egg tacos with salsa and avocado.
 
Q: What is your favorite type of exercise?
A: Warm vinyasa yoga or hiking.
Q: What keeps you motivated during your workout?
A: Good music or fresh air!
Q: What is your favorite healthful snack?
A: I enjoy a handful of almonds or energy balls with chocolate chips and coconut.
Q: What do you include in your child's lunch?
A: Raw veggies, fruit and a sandwich with hummus/cheese or nut butter/jelly.
Q: How do you make an unhealthy recipe healthy (healthy substitutions)?
A: In treats, I cut the sugar in half or more – it still tastes sweet usually! I also substitute meat for a vegetarian protein source.
Q: What hobbies do you have to help you relax?
A: Enjoying live music (from classical to rock), meditation and stretching.
Q: What is your go-to Houston restaurant for a healthy meal?
A: Benji's in the Village. They have awesome plant-centered, delicious foodie choices.
Q: What is your favorite health tip that you live by?
A: Everything in moderation!
Additional Resources
Dr. Akash Patel cuts down on sugar, stays motivated by friendly competition
Competitive dancing, nutritious substitutions key for Dr. Sandra Haudek
See how Baylor stays fit with more healthy habits from members of our community
See how Baylor promotes a culture of healthy living and wellness