Volunteerism in the internet age
I recently found myself googling, "how to be a good mentor" as I prepared to visit the Baylor College of Medicine Biotech Academy at Rusk in Houston. Several of my colleagues and I had signed up to work with students on their writing. As someone who has never considered herself a mentor, I was worried I would mess up the opportunity.
After introductions, we talked about the different kinds of writing they do – from the informal text messages and Snapchats they send numerous times a day to the formal expository essays for state exams.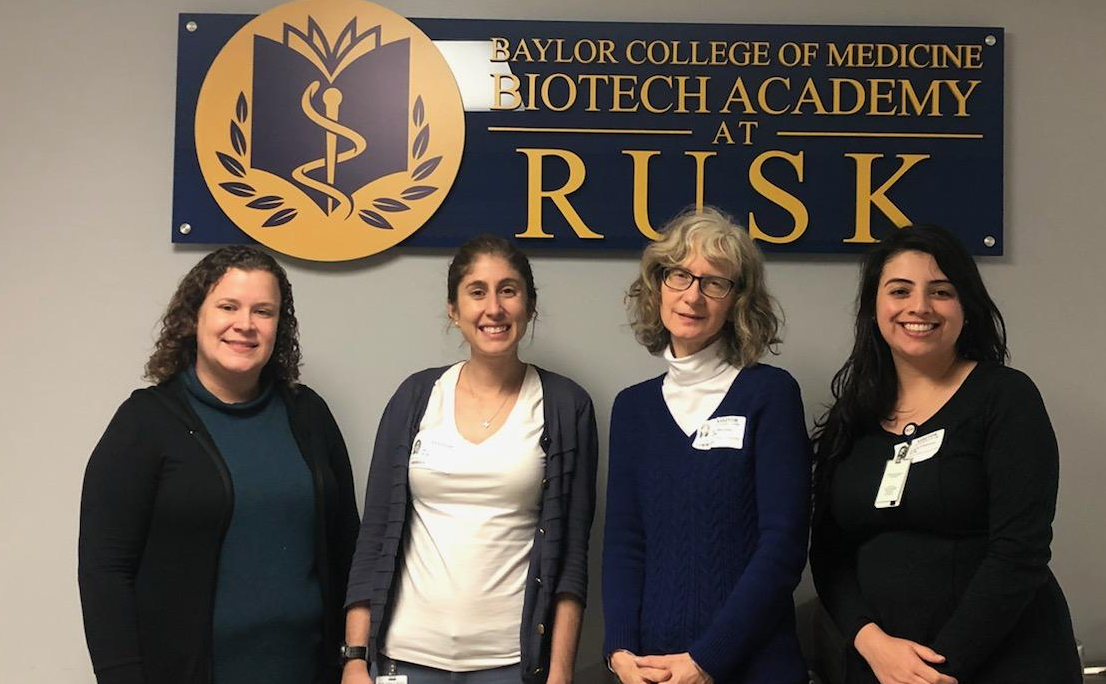 When I first asked what they knew about voice in their writing, I got silence. I worried this would be indicative of the rest of our session. But then one of the students asked, "Are emojis an example of voice?" As soon as we started talking about how they use different emojis to convey feelings or reactions, they suddenly had a lot to say.
With that in mind, we spent time going through several readings to help students identify different types of voice and how authors use it to engage the reader and show personality.
In the spring, I will return to meet with my two students again. We plan to go in depth with their own writing projects and continue refining their writing voice. As I reflect on my session with the students, I realize that one of the biggest parts of being a mentor is just showing up.
My students did most of the talking while I listened and supported their ideas. All of us agreed that we spend too much time in front of screens and it was nice to talk with no restrictions. They didn't even realize we had essentially gone through a lesson plan during our meeting.
The whole process only required me to be away from my desk for two hours and was a great reminder that volunteering doesn't have to be a long endeavor in order to be meaningful.
Unfortunately, volunteer rates in the United States have declined in recent years, with 24.9 percent of Americans reporting volunteer service in 2015, down from 28.8 percent in 2003.
That was until this year. Early reports indicate a surge of volunteerism in 2018, with 30.3 percent of adults volunteering. This equates to approximately 77 million volunteers and an estimated value of $167 billion.
It's unclear what specifically led to such a large increase this year. Was this in response to the high number of natural disasters and mass shootings? Some reports suggest this may be the case. Or is it due to an overall shift in how we volunteer, with technology enabling more opportunities for virtual volunteerism? Are more employers prioritizing giving back with more creative policies and initiatives?
It's a good thing volunteerism is increasing. But we're still a long way away. So this holiday season, why not make a commitment to volunteering in your community as a New Year's resolution? Check out Volunteer Match to search for activities in your zip code. Together let's make volunteerism even more popular in 2019!
–By Meredith Trejo, research associate in the Center for Medical Ethics and Health Policy at Baylor College of Medicine
Editor's note: Baylor College of Medicine offers volunteer time off for its employees. Learn more.