Healthy Habits: Dr. Alastair Thompson enjoys mountain running and freshly picked fruit
Taking care of your health is a priority and nobody knows that more than physicians and healthcare providers.
It can sometimes be difficult to find ways to stay healthy, so we've asked members of our Baylor College of Medicine community to share what they do in their daily lives to maintain a healthy lifestyle.
Dr. Alastair Thompson, chief of breast surgery in the Division of Surgical Oncology at Baylor, shares some of his healthy habits with us.
Q: What health decisions start your day?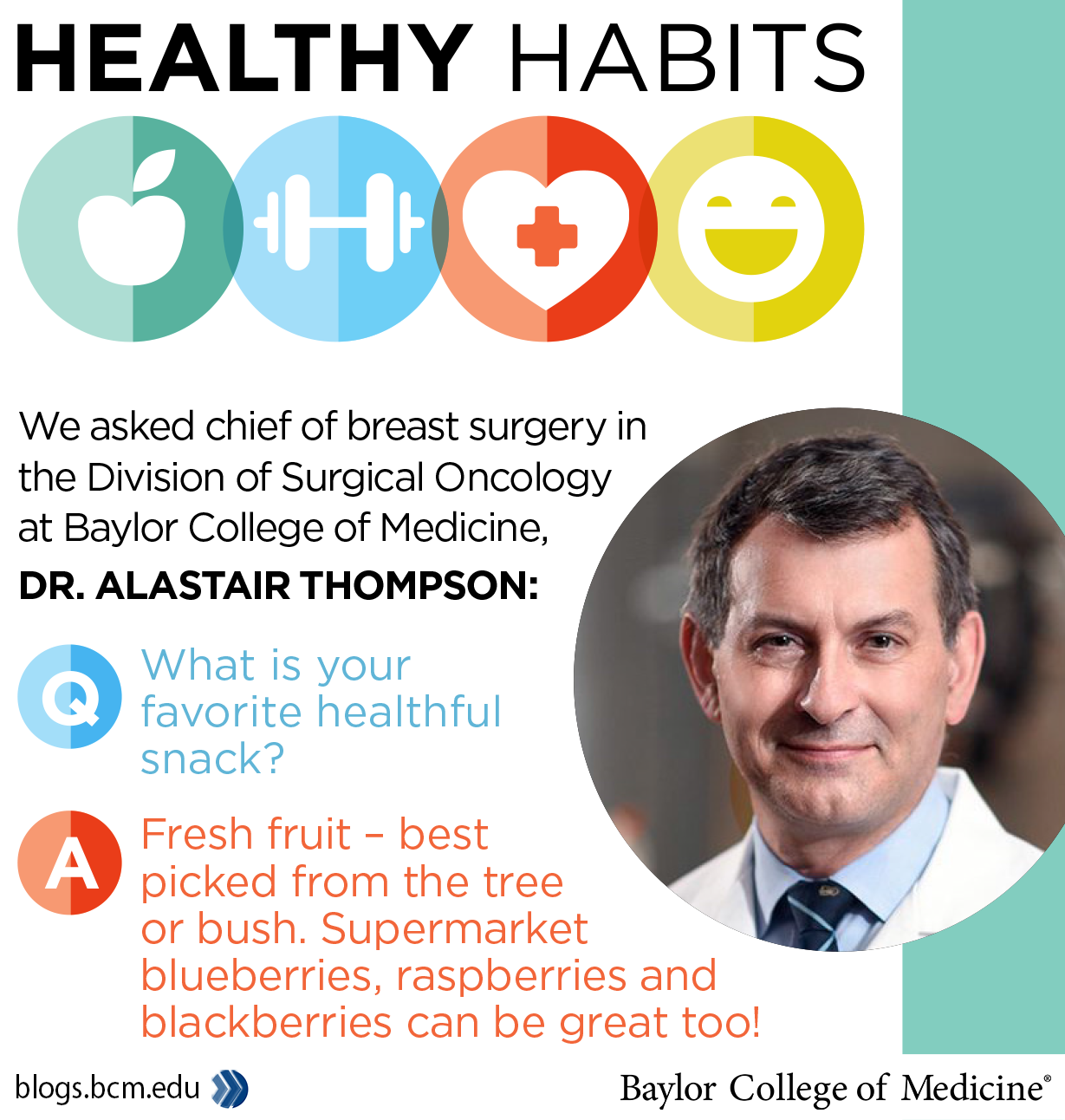 A: When to get up, how to get to work!
Q: What is your go-to healthy breakfast?
A: Fresh ground coffee in a French press and wholegrain toast with homemade raspberry preserves.
Q: What is your favorite type of exercise?
A: Mountain or hill running! In Houston, running around Rice University has become a real favorite; the oaks are magnificent and all sorts of people walk, jog and run there.
Q: What keeps you motivated during your workout?
A: Trying to catch up with the person in front. Not always successfully though. I also think through the things I will be doing in the next day, week, and year.
Q: What activities do you do when you can't fit in a full workout?
A: I try to make sure I take the stairs rather than an elevator.
Q: What is your favorite healthful snack?
A: Fresh fruit – best picked from the tree or bush. Supermarket blueberries, raspberries and blackberries can be great too.
Q: What do you include in your child's lunch?
A: An apple and a treat!
Q: How do you make an unhealthy recipe healthy (healthy substitutions)?
A: I replace butter with olive oil and bake rather than fry.
Q: What hobbies do you have to help you relax?
A: Listening to music and gardening.
Q: What is your go-to Houston restaurant for a healthy meal?
A: The choice is huge in Houston! Maybe Ruggles Black for great savory dishes, though Uchi (if you can get in) serves great Japanese-style food. Cafe Brasil and Canopy are long-time favorites.
Q: What is your favorite health tip that you live by?
A: I aspire to eat well, exercise enough and achieve a home/work balance; aspiration is everything!
Additional Resources
Enjoying live music, plant-based proteins keep Dr. Jennifer Taylor on track
Dr. Akash Patel cuts down on sugar, stays motivated by friendly competition
See how Baylor stays fit with more healthy habits from members of our community
See how Baylor promotes a culture of healthy living and wellness