Know the signs of heat exhaustion
Summer is officially here and many of us have already made plans for the upcoming months. While outdoor activities are fun and relaxing, time in extreme heat can be dangerous. Dr. Jeffrey Steinbauer, professor of family and community medicine at Baylor College of Medicine, says heat exhaustion can easily lead to heat stroke if symptoms are ignored.
"Heat stroke is a step beyond heat exhaustion. The body can no longer control sweat and excess heat so the body temperature rises and, in extreme cases, can damage internal organs," he said.
Steinbauer says you should be aware of the following symptoms of heat exhaustion: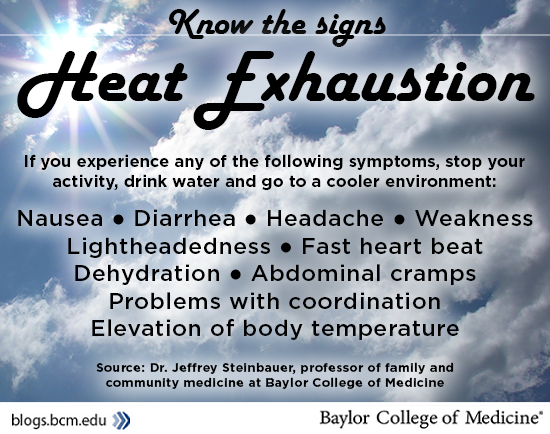 Wearing lightweight clothing, drinking plenty of water and taking breaks can help prevent heat exhaustion.
Additional Resources
Summer temperatures are rising: Don't let your medications overheat
Tips for seniors to stay cool during summer months
Summer precautions for diabetics
Save
Save