Making sure your kids have a fun summer and continue their education can be a free and engaging activity done at home thanks to numerous free science, technology, engineering and math (STEM) resources developed by the Center for Educational Outreach at Baylor College of Medicine. From lessons about alcohol and outer space to experiments you can do with household items, there is something for your students at every grade level.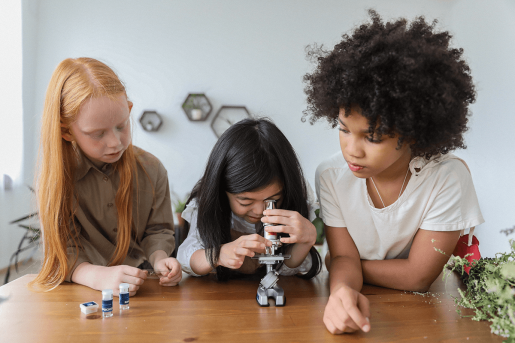 "There is a need for high-quality science experiences for learners across the K-12 spectrum," said Dr. Alana Newell, assistant director of the Center for Educational Outreach. "By providing high-quality, free resources, our goal is to increase access for all students to enhance overall science literacy and prepare them to participate in the STEM workforce of the future."
In 2004, BioEd Online was created to ensure high-quality, up-to-date sources of classroom-accessible science news, materials and trainings could be available online. After two decades, BioEd Online has grown into an extensive collection of educator and scientist-developed educational tools and resources that serves 250,000.
Though many lessons of BioEd were originally designed for traditional classrooms, users from different contexts, including homeschooling parents and after-school programs can use the content. The STEM@Home activities section contains lessons that provide STEM content without the need for specialized training, equipment and materials, and would be perfect for parents and families to use as a supplement to their children's education. Activities are organized by grade level and topic to make searching for the perfect at-home lesson effortless.
Activities for kindergarteners to second graders
While your child learns the fundamentals of STEM in the classroom, supplement their knowledge with lessons that teach them how to Think Like and Engineer or how to Put a New Spin on Art. Challenge your elementary schooler by asking, "Can you imagine Being a Spider?" and "What Kind of Paper Makes the Best Boat?"
Activities for third to fifth graders
Get some more hands-on time with STEM concepts through advanced lessons that teach your child where microbes are (They're Everywhere!) and How Do Your Lungs Work?
Activities for middle schoolers
As your child enters middle school, STEM curriculum becomes more intense, and it may be more of a challenge to keep them engaged in those classes. Luckily, lessons and activities where your child can create Kinetic Art: Sculptures in Motion or investigate a mysterious illness that kills baby elephants in The Index Elephant can help them not only succeed in their classes, but also begin to shape their future career goals.
Rigorous subjects in STEM classes can be made approachable through understanding viruses and learning how insects can survive in outer space. Your high schooler can prepare for their careers by learning about The Varied Path of Health Professionals, which features insight into the numerous health careers they might not know about.
By Aaron Nieto