Living our values at Baylor and beyond as clinicians
Editor's note: The below speech was originally given at the School of Health Professions commencement on Dec. 1, 2018.
When I first interviewed at Baylor College of Medicine, I remember seeing blue bulletin boards with the College's core values – respect, integrity, innovation, teamwork, and excellence.
As an applicant, these values deeply resonated with me, and I knew this was the place where I wanted to learn and train. Reflecting on my time here, I think of the many hours spent in classrooms and hospitals, learning from those at the top of their field. I have been continually reminded of these values as they've truly formed a strong foundation for my medical career.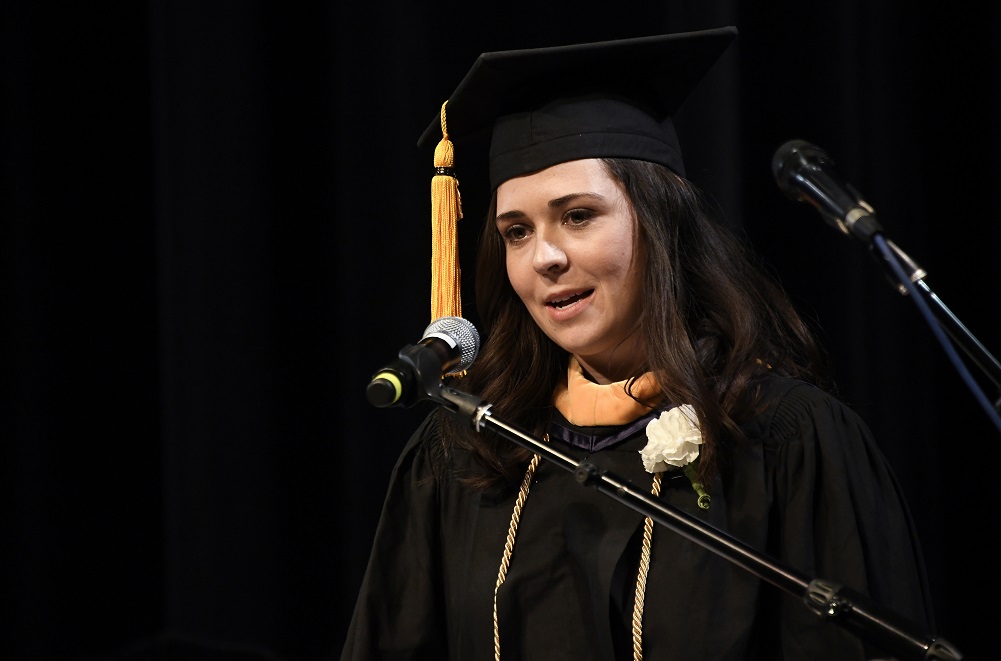 I am lucky to call myself the president of the talented and dynamic Physician Assistant Program class of 2018. Commencement marked the culmination of many years of education and hard work – taking pre-requisite classes, shadowing various providers, and working in the field to reach this goal.
I am so proud of our class as we transition from students to providers. Of course, these achievements would not have been possible without our support systems. Near and far, our friends and family have kept us going when times were stressful and overwhelming. To the faculty who have been instrumental as mentors, leaders and cheerleaders – thank you for being pivotal in our journey.
Our faculty have led us with unwavering dedication and passion in developing us into the providers we will soon be. I would like to give a special thanks to Professor Carl Fasser. Without him, our program and the scope of our profession would not be where it is today.
As our time at Baylor comes to an end, I've thought about how we can continue to integrate Baylor's values into our daily practice as clinicians. Personally, I hope to always show respect for my patients no matter their circumstances or background. I hope to preserve my personal integrity by always striving for the best for each patient and emulating the incredible preceptors I've been able to learn from.
I hope to be an innovator in the workplace by approaching issues with an open mind and using the resources around me. In a profession based upon collaboration, I hope to always remain flexible and prioritize practicing team-based medicine. I hope to exercise excellence – personally and professionally – for myself and my patients.
Above all else, I hope we never lose respect for the honor of caring for others. As we settle into our careers, we will be afforded the opportunity to enter the lives of our patients. Our knowledge, compassion, and newly acquired skills will help patients during their most vulnerable times.
While we may be physically far from the blue bulletin boards, their inscriptions will continue to guide our professional practice. May we each remain committed to what inspired us to enter this profession and steadfast in our desire to help others.
To my fellow classmates –I look forward to following the trajectory of each of our careers as we pursue different paths in medicine.
We've been through it all together – from 40 hours a week spent in a windowless classroom, to the rigors of didactic wondering what we had gotten ourselves into, to standardized patients, multiple bouts of VA badging, class celebrations, holidays, trips, and a record number of engagements. This program brought us all together – and I'm forever grateful to know and to have learned with and from each and every one of you.
-By Angelina Romasanta, 2018 class president in the Physician Assistant Program at Baylor 
Additional Resources
See photos from the School of Health Professions Commencement.
Learn more about the School of Health Professions class of 2018.