McNair Scholar Spotlight: Dr. Xiang "Shawn" Zhang
From the Labs sat down with McNair Scholar Dr. Xiang "Shawn" Zhang to learn more about him, his research, his motivations to pursue a career in science and how he manages his laboratory.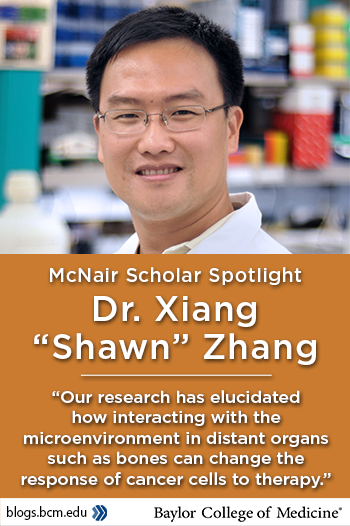 FTL: What events that happened early in your life inspired you to pursue a career in research?
XZ: Both of my maternal grandparents are medical scientists and I spent most of my childhood with them. Their influence is the earliest force driving me toward my science dream.
FTL: What were your favorite subjects in graduate school?
XZ: Genetics and bioinformatics.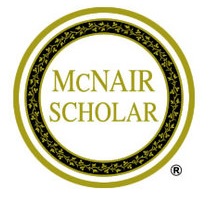 FTL: What experience that occurred during your years as a student had a major influence in your career?
XZ: When I was in graduate school, the Human Genome Project had just concluded. The unprecedented amount of data allowed scientists to investigate their scientific questions on a totally different scale. I was inspired to combine experimental biology and bioinformatics, which have been a major approach in my research since then.
FTL: What scientist has inspired your career the most?
XZ: My mentors at different stages of my career all inspired me in different ways. I am forever grateful for their mentorship.
FTL: What did your family say when you expressed your interest in pursuing a career in science?
XZ: They were in full support of my choices.
FTL: What are the main research interests of your lab?
XZ: We focus on breast cancer metastasis and tumor microenvironment, that is, how breast cancer cells disseminate to other organs and establish new tumors, and how they interact with the immune system.
FTL: How will your research findings help move the field forward and/or improve patients' quality of life in the future?
XZ: Our research has elucidated how cancer cells may change their response to drugs by interacting with the microenvironment in distant organs, such as bones. Cancer cells may become resistant to drugs that are normally used, which may explain why tumors metastasize despite current therapies. More importantly, we also found new therapies that are particularly effective on cancer cells in distant organs, which may lead to new treatments.
FTL: Briefly describe the most recent, top three major contributions of your lab to your field.
XZ: 1) We discovered that osteogenic cells are major microenvironmental components that promote early-stage breast cancer bone colonization. This provided unprecedented information on the micro-metastasis niche in bone.
2) We developed an ex vivo bone metastasis platform that is scalable and enables screening for anti-metastasis drugs.
3) We established a link between oncogenic mTOR signaling and accumulation of myeloid-derived suppressor cells, which revealed an unappreciated biogenesis mechanism and novel functionality of the aberrant myeloid cells in tumor microenvironment.
FTL: Do you follow a certain lab routine with your students/postdocs/staff that you think helps your lab be productive?
XZ: Several regular activities have contributed to help my lab be productive. First, we have maintained extensive interactions with other labs at Baylor College of Medicine and established many collaborations with labs of diverse expertise. These collaborations not only allow us to perform multi-disciplinary experiments, but also expose trainees to a wider scope of technologies and methodologies. Second, we have weekly internal meetings to discuss work-in-progress and review the latest advances in the literature. Third, we have an open-door policy. I am always available for discussion as long as I am in the office.
FTL: Do you follow a certain routine when you are designing experiments, writing grants or papers?
XZ: Oftentimes I organize my thoughts by talking to lab members about their experiments and future plans. Many good ideas are stimulated during such conversations. We also share our grant or manuscript drafts with colleagues to receive their insight and feedback.
FTL: After a busy day in the lab or writing grants or papers, how do you relax?
XZ: I excise in the gym.
FTL: Why did you decide to come to BCM?
XZ: I was drawn by Baylor's collaborative and collegial environment and its strong science and outstanding leadership.
FTL: How is being a McNair Scholar going to help you achieve your research goals?
XZ: Without the support of the McNair Foundation, my science career would have been much more difficult and I would not be able to explore territories that are totally new to me, such as tumor immunology.
FTL: What routines or habits of yours do you think have helped you be where you are today professionally?
XZ: I strive to manage my time efficiently. I am optimistic, passionate and perseverant. I follow my curiosity and am not afraid of doing bold experiments for scientific research.
FTL: What would be your advice to students considering a career in basic biomedical research?
XZ: Have passion and interest in science as the most important factors in pursuing your basic biomedical research career. Before considering such a career, ask yourself whether you really love exploring unknown territories and making unexpected discoveries. If so, then you are half way toward success. Other characteristics, such as being knowledgeable and organized, also are important, but they can be acquired through training.
Dr. Xiang "Shawn" Zhang is associate professor of molecular and cellular biology and the Lester and Sue Smith Breast Center and member of the Dan L Duncan Comprehensive Cancer Center at Baylor College of Medicine.
Learn more about Dr. Zhang's research:
The 2018 Michael E. DeBakey M.D. Awards for Excellence in Research
Out of the body and into bone-in culture: new technique tests drugs for metastatic cancer
Mouse blood vessels and immune system can team up against cancer metastasis
The mTOR pathway: a new avenue for breast cancer cells to promote tumor growth
McNair Scholars Program
The McNair Medical Institute at Baylor College of Medicine was established in 2007 to recruit talented scientists and physician-scientists from around the world to the Texas Medical Center. These McNair Scholars pursue collaborative and transformational research in the areas of breast and pancreatic cancer, juvenile diabetes and the neurosciences.
Receive From the Labs via email