Healthy Habits: Dr. Lisa Bomgaars takes spin classes, uses art to relax
Taking care of your health is a priority and nobody knows that more than physicians and healthcare providers.
It can sometimes be difficult to find ways to stay healthy, so we've asked members of our Baylor College of Medicine community to share what they do in their daily lives to maintain a healthy lifestyle.
Dr. Lisa Bomgaars, associate professor of pediatrics – hematology/oncology at Baylor and director of clinical research operations at Texas Children's Cancer Center, shares some of her healthy habits with us.
Q: What health decisions start your day?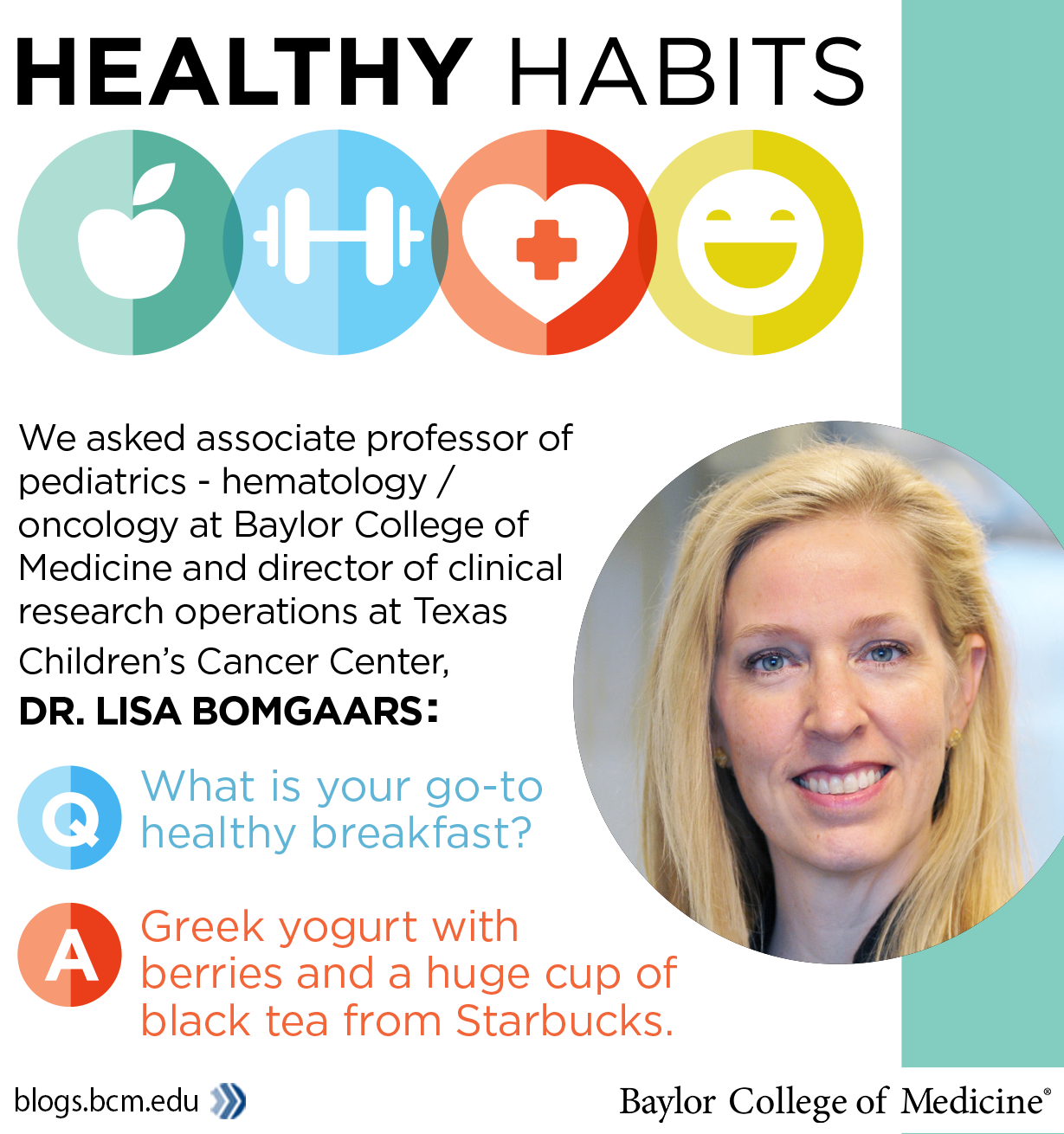 A: Deciding if I will work out and what I will eat.
Q: What is your go-to healthy breakfast?
A: Greek yogurt with berries and a huge cup of black tea from Starbucks.
Q: What is your favorite type of exercise?
A: Spinning.
Q: What keeps you motivated during your workout?
A: Knowing I will feel better. Taking a spin class with personal statistics displayed for the world to see is also very motivating.
Q: What activities do you do when you can't fit in a full workout?
A: Walking or elliptical training.
Q: What is your favorite healthful snack?
A: Hummus and veggies.
Q: What do you include in your child's lunch?
A: My kids are all grown up and are vegetarians.
Q: How do you make an unhealthy recipe healthy (healthy substitutions)?
A: I use zero-fat Greek yogurt instead of sour cream.
Q: What is your nighttime skin regimen?
A: Cleansing and Sisley moisturizer.
Q: What hobbies do you have to help you relax?
A: Painting, drawing, reading and cooking.
Q: What is your go-to Houston restaurant for a healthy meal?
A: I live in The Woodlands area, so I enjoy Huti's 5 Free-Fire Grill.
Q: Do you use a pedometer or Fitbit and what is your daily step goal?
A: I use "Lose It!" to log my activity and calories.
Q: What is your favorite health tip that you live by?
A: Everything in moderation.
Additional Resources
Fitness classes, workout videos help Dr. Stephanie Morain stay active
Dr. Gabriel Loor enjoys martial arts, breathing exercises to stay focused
See how Baylor stays fit with more healthy habits from members of our community
See how Baylor promotes a culture of healthy living and wellness