Healthy Habits: Adam Pena plays tennis, avoids overexertion during workouts
Taking care of your health is a priority and nobody knows that more than physicians and healthcare providers.
It can sometimes be difficult to find ways to stay healthy, so we've asked members of our Baylor College of Medicine community to share what they do in their daily lives to maintain a healthy lifestyle.
Adam Pena, instructor in the Center for Medical Ethics and Health Policy at Baylor, shares some of his healthy habits with us.
Q: What is your favorite type of exercise?
A: I exercise five to six times a week. I enjoy the CrossFit style and usually couple that with episodic high-intensity interval training.
Q: What keeps you motivated during your workout?
A: My pre-workout drink, Push, keeps me motivated to some extent. Before a lift, I "get my mind right" by going over the form in my mind and ignoring everything else that is going on around me. The sense of accomplishment after a workout is pretty good motivation as well.
Q: What activities do you do when you can't fit in a full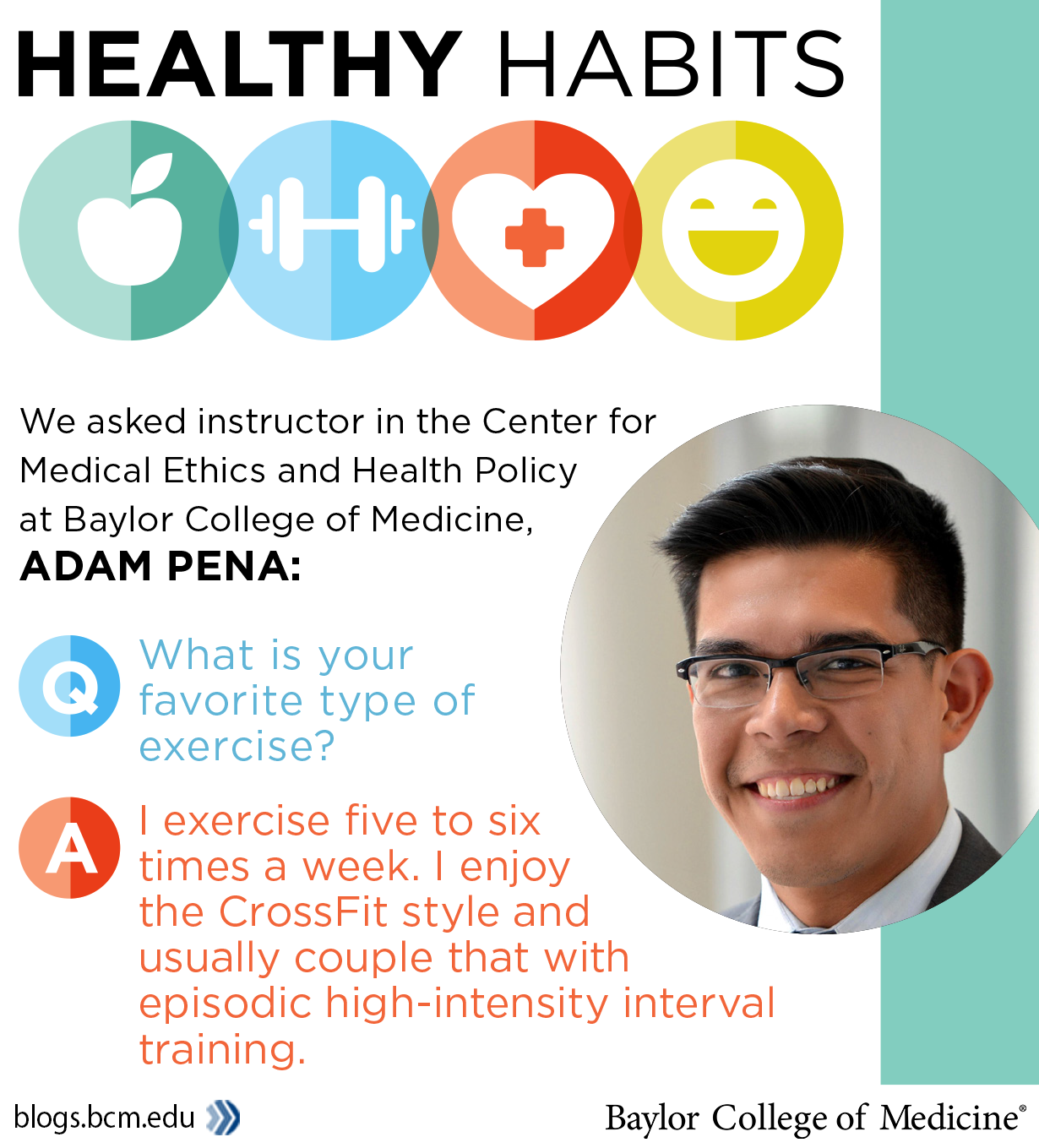 workout?
A: If I cannot fit in a full workout, then I usually focus on conditioning. I am able to do this by completing a longer "every minute, on the minute" routine consisting of three or four different movements.
Q: What is your favorite healthful snack?
A: Natural peanut butter and apple slices.
Q: What hobbies do you have to help you relax?
A: I enjoy playing tennis and hanging by the pool or at the beach. On days that I don't even want to move from my bed, I read.
Q: What is your go-to Houston restaurant for a healthy meal?
A: Snap Kitchen.
Q: What is your favorite health tip that you live by?
A: There are some days that I do not feel like working out. I don't feel motivated, focused, or perhaps I am just tired. On those days, I give myself five minutes; I start my workout, and after five minutes, if I am still feeling fatigued, I stop. The five minutes gives me enough time and I usually end up completing the workout. It's important to listen to my body.
Additional Resources
Moderation, morning jogs help Dr. Jennifer Christner stay relaxed
Dr. Sharmila Anandasabapathy enjoys barre workouts, hiking
See how Baylor stays fit with more healthy habits from members of our community
See how Baylor promotes a culture of healthy living and wellness