Future scientists inspired by recipients of Breakthrough Prize
Since being honored with the prestigious Breakthrough Prize in Life Sciences, Baylor College of Medicine's Dr. Huda Zoghbi has been busy, but not just with her research on Rett Syndrome. These days, as she sits in her office at the Jan and Dan Duncan Neurological Research Institute at Texas Children's Hospital where she is director, she's also answering the hundreds of emails she received from people around the world, including young children and immigrants, inspired by her and her work.

"Every award is an honor and brings with it motivation to keep moving forward in my work," said Zoghbi. Her lab was responsible for identifying mutations in the gene MECP2 as the underlying cause of Rett Syndrome, and she is now leading work in other neurological disorders such as Alzheimer's and Parkinson's disease. She is professor of molecular and human genetics, pediatrics, neurology, and neuroscience, holds the Ralph D. Feigin, M.D. Endowed Chair at Baylor College of Medicine and is a Howard Hughes Investigator.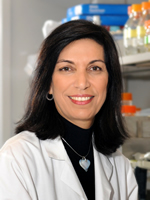 "The reaction from this award, however, surprised me. The response outside of the scientific community has been overwhelming," she said.
Zoghbi said she was not expecting so many children, the majority being young girls, to reach out to her to say how they had never thought that a career in science and medicine could be just as glamorous as the lives of celebrities they see on the red carpet and even more rewarding.
"Some said they hadn't really thought about science in this way. The idea is always the stuffy white coat locked in a lab," she said. "But the way this award was presented, it put science as a career right into people's homes."
The Breakthrough Prize ceremony was televised nationally on a cable network the night it was held, and a shorter version was televised on a national network a few weeks later. One reason for this, Zoghbi mentioned, is because of the awards' founders. They include Sergey Brin, computer scientist and co-founder of Google; Anne Wojcicki, co-founder of the genetics company 23andMe; Mark Zuckerberg, founder of Facebook, and his wife, Dr. Priscilla Chan, a pediatrician; and Yuri and Julia Milner, physicist and artist, respectively, both venture capitalists.
All are aware of the importance of the different fields of science and also how supporting research – awards for the Breakthrough Prize are up to $3 million – and how sharing information can benefit and inspire so many.
Unexpected response to the Oscar-styled award ceremony
"The messages I received showed me that the presentation of the Breakthrough Prize humanized the process of science for so many young people. Some said they are now excited about a career in science. Some were from parents who said it gave them the opportunity to sit down with their children and talk about a career in medicine or science."
It wasn't just the messages from hopeful future scientists that touched Zoghbi.
"I received emails from immigrants who said they were proud and how they related to my journey," she said. "Being a Lebanese immigrant myself, hearing how some said they are walking a bit taller now thanks to my contributions, not just in science, but in being a successful, valued part of this country, really touched me."
Zoghbi grew up in Beirut, Lebanon in the 1960s and '70s. She attended the American University of Beirut and was then accepted into the medical school at the university. During that time, the Lebanese civil war broke out. It became impossible for her to commute to school, and at one point she lived in the basement of the medical research building and traveled to the hospital for meals via underground tunnels.
When life finally became too dangerous, her family decided to send her and her younger brothers to Texas where her sister was living. She eventually was accepted to the Meharry Medical College in Nashville, Tenn., which was the start of her medical career in the United States. (Read more of her early life and career here.)
Back in Zoghbi's office at the NRI, a bouquet of flowers sits atop her conference table. She has received so many generous congratulatory bouquets, but it is those messages that have been most impactful.
"I've responded to more than 600 emails so far, and I have maybe 400 left to go" she said. "I have been brought to tears, and have even reread many of them. The whole experience has been very moving."