Healthy Habits: Dr. Alicia Monroe balances relaxation, fitness and fun
Taking care of your health is a priority and nobody knows that more than physicians and healthcare providers.
It can sometimes be difficult to find ways to stay healthy, so we've asked members of our Baylor College of Medicine community to share what they do in their daily lives to maintain a healthy lifestyle.
Dr. Alicia Monroe, provost and senior vice president of academic and faculty affairs at Baylor, shares some of her healthy habits with us.
Q: What health decisions start your day?
A: Attending to my spiritual, emotional and physical health are the decisions which guide the start to my day. Prayer and scripture reading during my quiet time, a brisk walk on the treadmill while listening to uplifting and inspiring music, a minimum of 16 ounces of water, and a healthy breakfast are included in my preferred routine.
Q: What is your go-to healthy breakfast?
A: My go-to healthy breakfast is plain Greek yogurt and berries topped with ground flax seed and walnuts.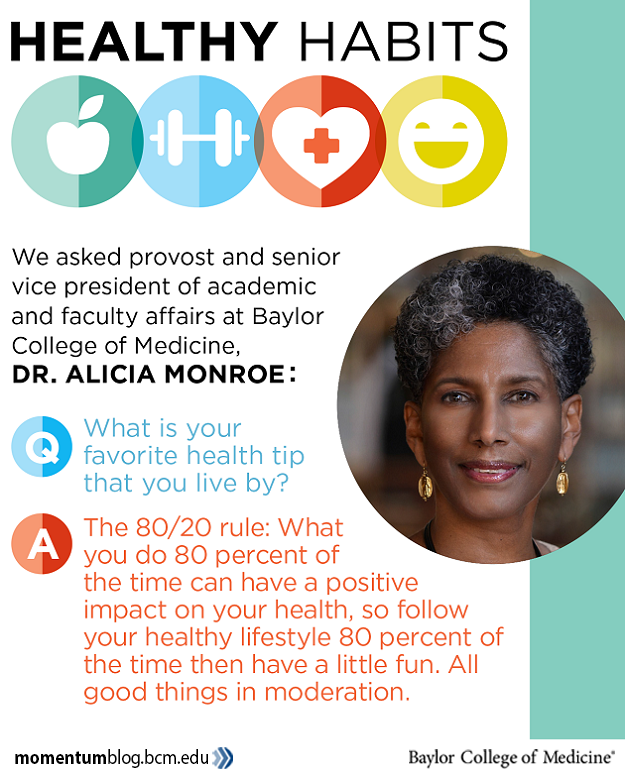 Q: What is your favorite type of exercise?
A: I like Zumba and aerobics, but I rarely get to classes these days, so I rely on a few floor exercises for strengthening and a brisk walk on the treadmill.
Q: What keeps you motivated during your workout?
A: I enjoy the music and I remember how good weight bearing exercise is for my bones!
Q: What activities do you do when you can't fit in a full workout?
A: I walk stairs or do a brief treadmill walk.
Q: What is your favorite healthful snack?
A: Fruit (apples, berries, melon, grapes) or nuts.
Q: Do you take vitamins and if so, which ones?
A: I take a multivitamin and calcium.
Q: How do you make an unhealthy recipe healthy (healthy substitutions)?
A: I substitute applesauce for oil in cake mixes and plain yogurt for mayo.
Q: What is your nighttime skin regimen?
A: Gently cleanse and moisturize.
Q: What hobbies do you have to help you relax?
A: Read or listen to music.
Q: Do you use a pedometer or Fitbit?
A: Yes, I use a Fitbit.
Q: What is your favorite health tip that you live by?
A: The 80/20 rule: What you do 80 percent of the time can have a positive impact on your health, so follow your healthy lifestyle routine 80 percent of the time then have a little fun. All good things in moderation.
Additional Resources
Taking stairs, low-fat substitutions help Dr. Tamara Ortiz Perez stay fit
Dr. Jennifer Bump meditates, reads to stay relaxed and focused
See how Baylor stays fit with more healthy habits from members of our community
See how Baylor promotes a culture of healthy living and wellness