Get vaccinated now to best prepare for flu season
Flu season is upon us and there's no better time to get vaccinated than now.
Dr. Pedro Piedra, professor of molecular virology and microbiology and pediatrics at Baylor College of Medicine, recommends that everyone over the age of 6 months should be vaccinated. However, the live vaccination, or nasal spray, will be largely unavailable in the United States this year due to low effectiveness.
"This year, the CDC's Advisory Committee on Influenza Practices has made the recommendation that the live attenuated vaccine not be utilized this year because data from the last three years suggested it had reduced protection against the influenza virus," said Piedra.
It takes about one to two weeks after receiving the vaccine to have full protection, so Piedra says the absence of the nasal spray should not stop adults or children from getting vaccinated as soon as possible.
See the infographic below to find out which vaccine is best for you.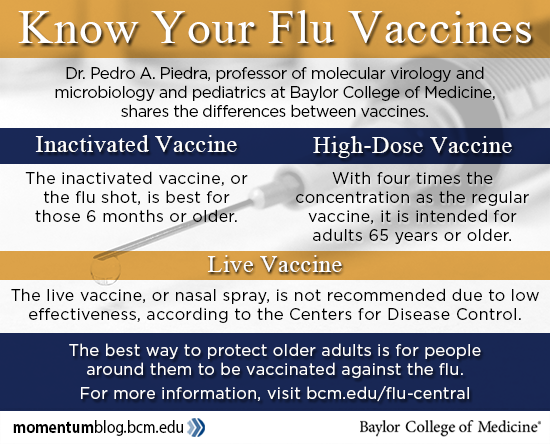 Special considerations
Piedra says pregnant women can safely receive the flu shot during any trimester. Additionally, anyone with significant egg allergies can receive an egg-free vaccine.
Those who work in a healthcare setting should also be vaccinated to reduce the risk of spreading the flu. Be sure to contact your physician if you have safety or allergy concerns before getting vaccinated.
Additional Resources
Read more about different types and formulas of the flu vaccine.
Visit the CDC website for more flu information and resources.