Healthy Habits: Positive energy motivates Dr. Rosalyn Nguyen to stay fit
Taking care of your health is a priority and nobody knows that more than physicians and healthcare providers.
It can sometimes be difficult to find ways to stay healthy, so we've asked members of our Baylor College of Medicine community to share what they do in their daily lives to maintain a healthy lifestyle.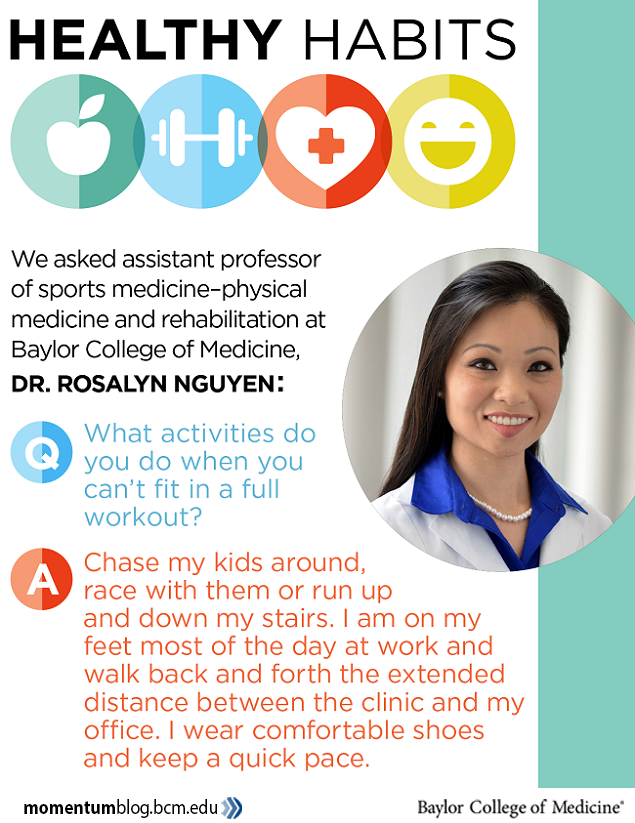 Dr. Rosalyn Nguyen, assistant professor of sports medicine–physical medicine and rehabilitation at Baylor, shares some of her healthy habits with us.
Q: What is your go-to healthy breakfast?                    
A: Oatmeal, yogurt, bite-sized vegetables, grapefruit.
Q: What is your favorite type of exercise?
A: Gym machines, including the rowing machine, multi-hip, elliptical, lat pull downs; core workouts, aerobics, back strengthening, swimming, skiing, running, laundry.
Q: What keeps you motivated during your workout?
A: I actually think about my to-do list, what events to plan for my family, what I need to do for work and the time just flies. Or I catch up on the news on TV or listen to music/podcasts.
Q: What activities do you do when you can't fit in a full workout?
A: Chase my kids around, race with them or run up and down my stairs. I am on my feet most of the day at work and walk back and forth the extended distance between the clinic and my office. I wear comfortable shoes and keep a quick pace.
Q: What is your favorite healthful snack?
A: Cherry tomatoes, baby carrots, sliced green peppers, snap peas, corn, grapefruit, peaches, pears, clementine, watermelon, bananas.
Q: Do you take vitamins and if so, which ones?
A: Calcium+ vitamin D, multivitamins and fish oil.
Q: What do you include in your child's lunch?
A: The above fruits and vegetables.
Q: How do you make an unhealthy recipe healthy (healthy substitutions)?
A: I add flax seed. I also cut down on butter, sugar, cream, etc.
Q: What is your nighttime skin regimen?
A: Exfoliating cleanser, toner, Belif lotion.
Q: What hobbies do you have to help you relax?
A: Spending time with my family, planning events, exercise including running, arts and crafts, painting and watching martial arts competitions.
Q: What is your go-to Houston restaurant for a healthy meal?
A: Our kitchen!
Q: What is your favorite health tip that you live by?
A: Positive energy is good for your health. Smile, be optimistic, set goals and funnel that drive of getting there to motivate you. Find something fulfilling to strive for. Set priorities and take it one day at a time. Try to find joy, no matter what you're dealing with.
Additional Resources
Running, gardening help Dr. Susan Blaney relax
Dr. Jason Salemi meditates, plays sports to stay active
See how Baylor stays fit with more healthy habits from members of our community
See how Baylor promotes a culture of healthy living and wellness