Healthy Habits: Dr. Jason Salemi meditates, plays sports to stay active
Taking care of your health is a priority and nobody knows that more than physicians and healthcare providers.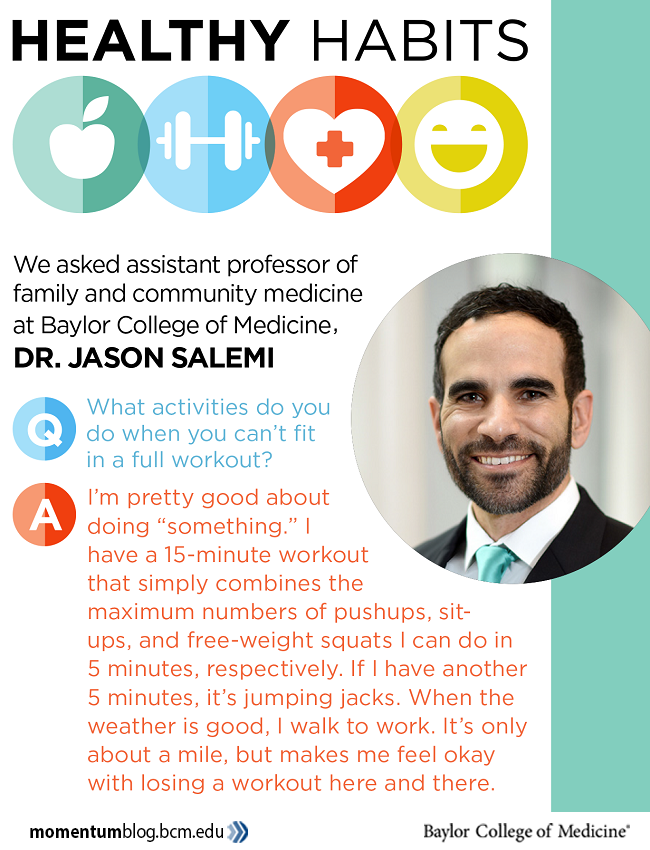 It can sometimes be difficult to find ways to stay healthy, so we've asked members of our Baylor College of Medicine community to share what they do in their daily lives to maintain a healthy lifestyle.
Dr. Jason Salemi, assistant professor of family and community medicine at Baylor, shares some of his healthy habits with us.
Q: What health decisions start your day?
A: To be honest, I wish I were more like my wife, who is committed to waking at 4 a.m. to get a workout and healthy breakfast in before the work day begins. Me – I love to put the headphones on full-blast and charge through a workout after a long day at work. I yearn for that workout time, so I don't really start my day with the need for any promises to exercise later. More recently, I've been trying to invoke some de-stressing and meditation activities, to start each day on a positive, energized state of mind. Also…coffee…it's unhealthy for others to be around me sans coffee.
Q: What is your go-to healthy breakfast?
A: Well, I'm both a vegetarian and have a split-breakfast personality. When it's running season for me, my go-to breakfast is definitely oatmeal. I buy the low-sugar Quaker Oats maple and brown sugar, add a dollop of peanut butter (don't knock it 'till you try it), and a touch of soy creamer. Otherwise, I really enjoy making myself a three-egg omelet (1 yolk, 2 whites) with 2 Morningstar Farms Maple-Flavored Veggie Sausage Patties, and two slices of whole wheat toast with just a smidgen of strawberry-jalapeno jam.
Q: What is your favorite type of exercise?
A: That's a tough one. I'm a gym rat and really love weight-lifting, but that can get a little boring from time to time. I used to do a ton of cross-fit and interval training. I loved the high intensity and variation in workouts, but even that can overstay its welcome. My wife is a big runner and so I go through phases where I'll run 40 miles a week, and during the summer months will average more like 3 miles a week. My favorite though, the one I get the most enjoyment out of, is a good game of basketball, tennis or racquetball. Games are never dull, soothe my competitive soul and always involve others!
Q: What keeps you motivated during your workout?
A: I'm usually "plugged in" so depending on my mood, it's either a really great playlist or something like "Wait Wait…Don't Tell Me," "Car Talk"or "StoryCorps" from NPR.
Q: What activities do you do when you can't fit in a full workout?
A: I'm pretty good about doing "something". I have a 15-minute workout that simply combines the maximum numbers of pushups, sit-ups, and free-weight squats I can do in 5 minutes, respectively. If I have another 5 minutes, it's jumping jacks. When the weather is good, I walk to work. It's only about a mile, but makes me feel okay with losing a workout here and there.
Q: What is your favorite healthful snack?
A: Two things really. I'm a smoothie nut and my wife makes the best kale smoothies, most often mixed with bananas and frozen berries, but sometimes with either some peanut butter or Vega protein mix. Evidence that it's good? My dad doesn't do green drinks. Well, dad loves Jennifer's green smoothies! And full disclosure, if we're talking processed, I reach for the lightly salted Harvest Snaps. They're baked green peas that are not nearly as salty as other snack foods in which I indulge and have a good bit of dietary fiber and protein!
Q: Do you take vitamins and if so, which ones?
A: My plant-based diet provides me with a wealth of vitamins and minerals that meet just about all of my nutritional needs, so I don't need much in the way of supplements. However, I do take a B12 supplement since the only vegan sources of B12 are through either foods fortified with B12 (like my breakfast cereal, nutritional yeast, or soymilk) or a B12 supplement. Although I eat a lot of the fortified foods periodically, I take the supplement every other day just to be sure.
Q: How do you make an unhealthy recipe healthy (healthy substitutions)?
A: Well, you could say that I "Jennify" the recipe since my wife, Jenni, is a registered dietitian at Texas Children's Hospital. Although I'm a pretty healthy eater, she keeps me in line with things I tend to overlook – like replacing unhealthy Nutella or processed peanut butter with her homemade cashew butter, replacing my parmesan cheese topper with Daiya cheese or nutritional yeast (I promise it's yummy), or overdoing it with the excessively salty foods.
Q: What is your nighttime skin regimen?
A: Soap. Water. Scrub. Rinse. Dry. A man's guide to beautiful skin 🙂
Q: What hobbies do you have to help you relax?
A: Being from Tampa, my wife and I used to love strolls on the beach, which we've replaced with the still-enjoyable saunter through the Museum District. And, well, I'm a pretty avid sports nut – always have been – and since moving to Houston, I've developed a particular and avid taste for European soccer. Sports (playing or watching) certainly help me to decompress and take my mind off things, but my wife might be quick to say that her empirical observations would support anything but relaxation when things aren't going well for my team.
Q: What is your go-to Houston restaurant for a healthy meal?
A: I don't eat out very often, but I really love to frequent Snap Kitchen. In addition to having some really creative and delicious options, my favorites being their vegetable lasagna and tofu and arugula salad, they are dedicated to choosing local ingredients and engaging in sustainable practices (like their recyclable or compostable containers) that are important to me.
Q: Do you use a pedometer or Fitbit and what is your daily step goal?
A: Nope, no pedometer or Fitbit, although my Fitbitter colleagues have been persuading me to reconsider. If nothing else, it serves as a persistent reminder to someone who can easily become glued to his office chair to get up and move!
Q: What is your favorite health tip that you live by?
A: For this, I'm going to steal from the legendary Jim Valvano who so eloquently said, "To me, there are three things we all should do every day. We should do this every day of our lives. Number one is laugh. You should laugh every day. Number two is think. You should spend some time in thought. And number three is, you should have your emotions moved to tears, could be happiness or joy. But think about it. If you laugh, you think, and you cry, that's a full day. That's a heck of a day. You do that seven days a week, you're going to have something special."
Additional Resources
Dr. Luis Rustveld keeps fitness simple
Dietitian Kristi King reads, hikes to stay fit
See how Baylor stays fit with more healthy habits from members of our community
See how Baylor promotes a culture of healthy living and wellness