Healthy Habits: How Dr. Alexander Pastuszak finds time for daily exercise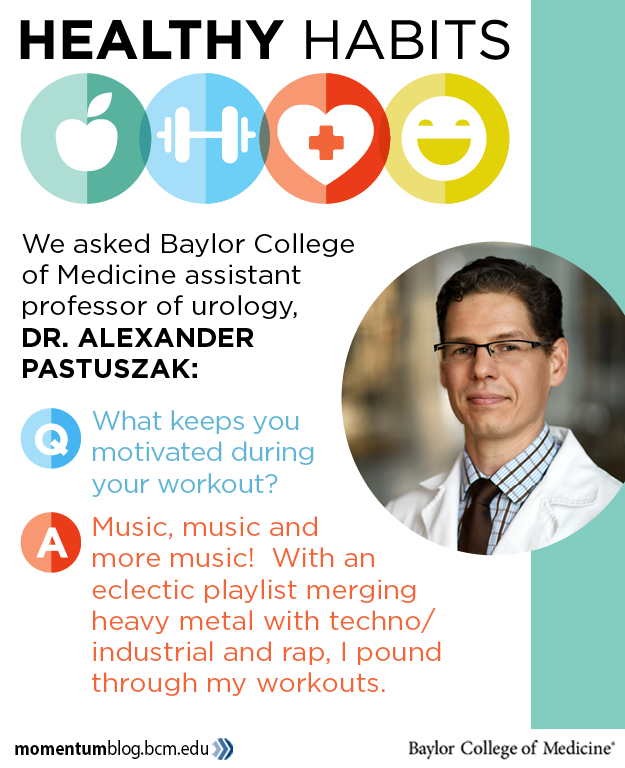 Taking care of your health is a priority and nobody knows that more than physicians and healthcare providers.
It can sometimes be difficult to find ways to stay healthy, so we've asked members of our Baylor College of Medicine community to share what they do in their daily lives to maintain a healthy lifestyle.
Dr. Alexander Pastuszak, assistant professor of urology, tells us how he stays fit.
Q: What healthy decisions start your day?
A: I start my day early, while it's still quiet and I have time to think clearly, and with a big glass of water to make up for the night's dehydration. I plan activities and meals around how busy the day looks like it's going to be, and see when the best time to fit in some exercise will be. Having a good idea of the day and the week keeps me focused and decreases my stress levels, particularly when working to balance family and work life.
Q: What is your go-to healthy breakfast?
A: My breakfast tries to balance fat, protein, and carbs so I have the energy to make it through the morning and not feel worn out.  It's important to think about what kinds of carbs you eat, so I try to select high-fiber, slow-absorbing (low glycemic index) carbs such as whole wheat or Ezekiel breads, etc. There's nothing wrong with eggs, and while I don't have them daily, I probably have either whole eggs or egg whites about 3-4 times per week, which provides good fats and healthy proteins. Supplementing protein needs with whey protein isn't a must, but also happens. Fruits and veggies (yes, veggies) at breakfast either in their raw form or juiced (at home), also make their way into my diet a few times per week. I try to eat often, so breakfast is usually half an Ezekiel muffin with scrambled eggs or egg whites, with some milk and fruit/veggie juice, and a cup of coffee. In about 4-5 hours, I'm ready for the next small meal!
Q: What is your favorite type of exercise?
A: I enjoy both maintaining my strength and muscle mass, which I do with weight training 2-4 times per week, as well as regular aerobic exercise – either a long jog or fast walk – several times per week.
Q: What keeps you motivated during your workout? (music, tv, phone call, etc.)
A: Music, music and more music!  With an eclectic playlist merging heavy metal with techno/industrial and rap, I pound through my workouts.
Q: What activities do you do when you can't fit in a full workout?
A: If I can't get a workout in, which is increasingly a challenge with family and work, I'll make sure I do some fast walking around the medical center.  Fortunately, my clinic and lab are about a half mile apart, so a few trips a day at a solid pace can really get the heart rate up!
Q: What is your favorite healthy snack?
A: This is a great question!  It's really a challenge to manage making all your meals, so snacks often fall off the radar. My go-to is often a Pro Bar, which has all-natural ingredients with a lot of the characteristics I mentioned about breakfast – fat, protein, good carbs – and I don't eat the whole thing, preferring to nibble on it over time.
Q: Do you take vitamins and if so, which ones?
A: The only vitamin I regularly take is vitamin D, since my work keeps me indoors so much.
Q: What do you include in your child's lunch?
A: If you were to meet our 4 year old, you'd know that you can't force him to eat anything. But, my wife's been really good at finding foods that he'll eat that are natural and relatively healthy, so he usually gets pizza or chicken nuggets, but with that some cut up avocado and cherry tomatoes!
Q: How do you make an unhealthy recipe healthy (healthy substitutions?)
A: "Unhealthy" is a relative term, since the use of natural ingredients in the absence of so many of the chemicals that are so prevalent in our food, is still healthy. So, even if a meal is fatty or laden with simple carbs, that doesn't overtly mean that it's unhealthy! That being said, the key to making an "unhealthy" recipe "healthy" hinges on the use of natural, unprocessed ingredients, and building the recipe as much from scratch as possible.
Q: What is your nighttime skincare regimen?
A: Wow, this is a good question for all the guys out there!  My skin regimen is pretty simple – use a moisturizing soap and keep my face clean throughout the day. I shower at night, which helps keep my face shipshape as well. I'll occasionally use some Kiehl's face wash or exfoliating scrub, but not often.
Q: What hobbies do you have to help you relax?
A: I really enjoy getting out for really long (10+ mile) walks or hikes – these really clear my mind and help me brainstorm. A close second is cooking and finding fun wines to try, and then just past that is building radio controlled gadgets (cars, helicopters, etc.) that my son and I can enjoy together.
Q: What is your go-to Houston restaurant for a healthy meal?
A: We really enjoy Hungry's in Rice Village and Dolce Vita on Westheimer for our off-the-cuff family meals.
Q: Do you use a pedometer or Fitbit and what is your daily step goal?
A: Absolutely! I've upgraded from a pedometer to an Apple watch, with a daily calorie goal of 550, which translates to about 12,000 steps.
Q: What is your favorite health tip that you live by?
A: Keep it natural. You're human, and your human power (i.e. exercise and movement) and the foods that we have coexisted with for centuries are there for a reason. The more the modern environment infiltrates that relationship, the less healthy we will all be.
Additional Resources
What a cardiologist does to stay healthy
Dr. Julie La Barba says skip extremes, deprivation
See how Baylor stays fit with more healthy habits from members of our community
See how Baylor promotes a culture of healthy living and wellness