Healthy Habits: What a cardiologist does to stay healthy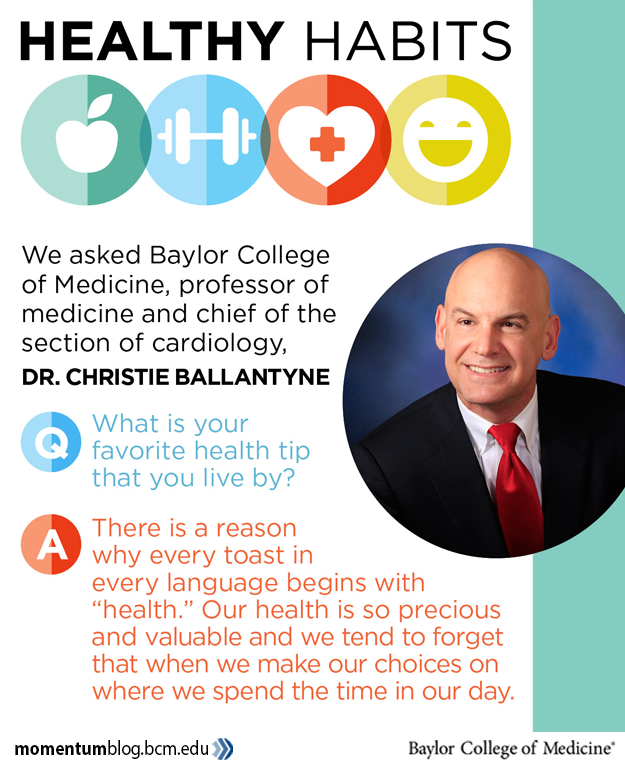 Taking care of your health is a priority and nobody knows that more than physicians and healthcare providers.
It can sometimes be difficult to find ways to stay healthy, so we've asked members of the Baylor College of Medicine community what they do in their daily lives to maintain a healthy lifestyle.
Dr. Christie Ballantyne, professor of medicine and chief of the section of cardiology at Baylor, shares some of his healthy habits with us.
Q: What healthy decisions start your day?
A: As I start my day and my mind begins to zoom in on work, I think about balance, taking care of body, mind and spirit.
Q: What is your go-to healthy breakfast?
A: Skim milk with high-fiber, whole grain cereal or a bowl of fruit, raw almonds and Kefir with ground flax seed sprinkled on top.
Q: What is your favorite type of exercise?
A: I do different gym activities and go to classes that have varied activities. One of the regular classes has a focus on core strength, balance, flexibility and endurance to give a total body workout. The class that is the most fun is Zumba. My goal is to exercise at least an hour a day every day and to get some kind of exercise every day.
Q: What keeps you motivated during your workout?
A: I go to classes as I get bored on the treadmill or elliptical. Music for me makes exercise fun, which is why I enjoy Zumba so much.
Q: What activities do you do when you can't fit in a full workout?
A: I have a short routine that involves a dynamic warm up, weights and stretching that takes around 20 minutes. If I cannot get to a gym, then I walk. If I am waiting in a line I will do some stretching and range of motion activities (yes it can look a little strange but feels good!).
Q: What is your favorite healthful snack?
A: Raw almonds or other nuts and fruits.
Q: Do you take vitamins and if so, which ones?
A: I don't think there is much benefit from taking vitamins but I do take Vitamin D as I spend a lot of time indoors.
Q: What do you include in your child's lunch?
A: My daughters are grown but all of them have healthy eating habits.
Q: How do you make an unhealthy recipe healthy (healthy substitutions)?
A: In general, reduce fat and sugar (don't fry foods, don't use full cream). In general, avoid processed food and eat "whole" foods.
Q: What is your nighttime skin regimen?
A: Does hugging my wife at night count? I don't have one but I do use SPF 30 lotion on my face and bald head in the morning to reduce chance for skin cancers.
Q: What hobbies do you have to help you relax?
A: For sure hugging my wife helps to reduce stress. I consider my exercise to be a huge stress reducer and I do this after work as a way of clearing out my mind and having a transition between work and home. I usually recommend to my patients that they exercise first thing in the morning but in my case, I like to do this in the evening. My children are grown which makes a big difference. I love to get outdoors, hiking, fishing, traveling and another favorite is going dancing.
Q: What is your go-to Houston restaurant for a healthy meal?
A: I like Paulie's; if you order the salmon then you can substitute other grilled veggies for the potatoes. Also, they are so nice that the place helps me unwind and relax.
Q: Do you use a pedometer or Fitbit and what is your daily step goal?
A: I use the health app on my iPhone and my goal is 10,000 steps from activities that do not include my exercise at the gym.
Q: What is your favorite health tip that you live by?
A: The importance of health. I have been fortunate to have survived lymphoma and have greater appreciation of my health, which we so often take for granted. There is a reason why every toast in every language begins with "health." Our health is so precious and valuable and we tend to forget that when we make our choices on where we spend the time in our day. I know that my death is inevitable, but each day I make choices about how I will live.
Additional Resources
Dr. Julie La Barba says skip extremes, deprivation
Each day is an opportunity to make healthy choices
See how Baylor stays fit with more healthy habits from members of our community
See how Baylor promotes a culture of healthy living and wellness